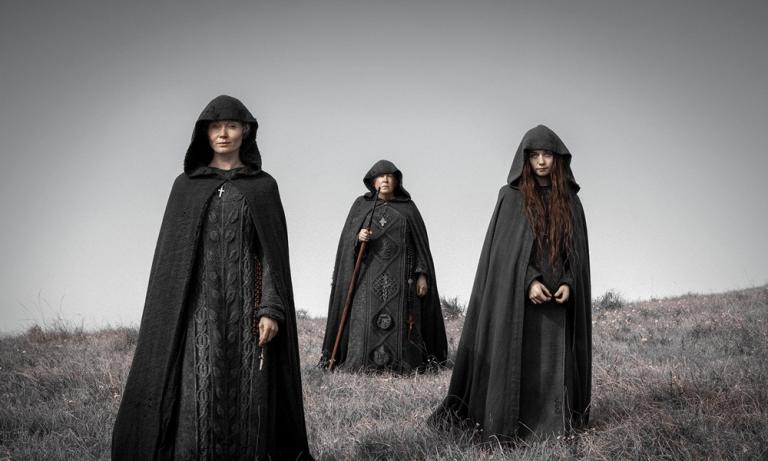 After the experience of watching the new Veronica Mars which arrived this month with a fourth season (I can't be bothered reviewing it, but here's a spoiler about my views on what they've done with it here), I decided to watch some local television instead – so I turned to Lambs of God.
Many years ago I read the book Lambs of God by Marele Day and I considered it to be rather akin to the literary potboilers by the likes of Colleen McCullough: lots of dramatic Australian environmental isolation and overwrought characters, which just the thing to be reading on summer holidays (which is when I think I read it, back when it was first published).
Lambs of God is now currently playing on Foxtel – the story of Carla, Margarita, and Iphigenia who are nuns. Or kind-of-nuns. They're women (yes, very much like The Fates or Triple Goddesses) hidden away on a convent in a self-created warped enclosed order, where their many years of womanly rituals and prayers and storytelling are interrupted by a priest – Father Ignatius – arriving with news of a plan to sell and develop the land. It's not a long read but it's a lush one; the clashes of conflicting belief and transformations incorporate not only reinventions of the Christian beliefs (scary communion! Reincarnations of nuns as sheep!) but also fairy tales (Sleeping Beauty / Briar Rose), and mythology (the aforementioned Fates and goddesses).
The battle between modern society in the guise of men and desire for commercial gain (it was published in the late 1990s) and the monastic life of the women comes with a cost – and it wasn't difficult to feel sympathy for the leads and their situation, despite their nutty knitting and weirdness.
The isolation and tension in the book, with three nuns hiding on an island church for an escape into a warped version of formalised religion (and to anyone who has read books ranging from Life of Pi to Lord of the Flies, you know it's not going to be good for the characters) is fairly well reflected in the TV show. However I think the story is far more impressive in filmic form – the reworking of fairy tales is particularly poignant in the final episode – and the performances of Ann Dowd (who played Aunt Lydia in The Handmaid's Tale), Essie Davis (the Phryne Fisher stories) and Jessica Barden as the leads are particularly engaging. It's nice to see 'Aunt Lydia' get a little more airtime beyond what has become the overwhelmingly exhausting brutality of Gilead (as I wrote earlier). As for Essie Davis, I first saw her perform with the Bell Shakespeare company and have followed her career ever since.
After seeing not-too-dissimilar stylistically The Kettering Incident (and a little bit of Wolf Creek?) a while back, it seems as if we're beginning to trend in terms of tales of character-driven stories set in isolated locations, which is of benefit to local productions. For quite some time I've been dismayed by programming that came across as variations on the Ozploitation-genre, such as Suburban Mayhem and Rake, so I hope its release encourages more diversity on the small screen. And more kick-ass women in leads is always a great thing.