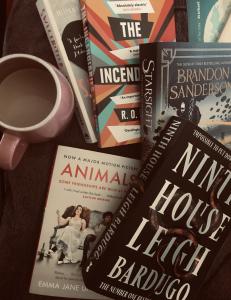 How was your year of reading? In 2019 I read a fair amount (mind, this is probably not unusual a list for me, as I often read in my spare time) and this doesn't include 'books I've re-read', as that'd be an even longer record.
Many of these books were a welcome break from study / work during the year and I've tried to increase the level of diversity and range (e.g less of my usual sci-fi, more non-fiction). I've italicised the Australian ones, and while I'm not into audiobooks, Donna Tartt's reading of The Secret History was a highlight (even though it took a long time to listen to completely).
It's entirely possible I've left some off my list and (naturally) I'm still reading into the holidays. While I always try to get a paperback first, having books on my phone as well as on my iPad has upped my usual number of books. If you're wondering about how to get access to this many books? Try your local library. They have downloads! Borrow Box has free borrowing of audiobooks and writers get royalties from library books (I believe it's Hoopla or Libby in the USA). Nothing quite like being able to flick through a book in public on an electronic device without people bugging you about 'what's that book about'. Mind, I still often get a paper copy as an alternative for making notes or for reading in the bath. Due to my leg injury, there's been a lot of reading in doctor's waiting rooms, or while sulking on the couch about not being able to go out as much as usual, and so on. As a result, I enjoyed many of these reads as blatant escapism, as useful conversation-starters, or the occasional radio-show segue.
I also sat for the WACE Literature exam in 2019 (the equivalent of sitting a final-year high school exam, only about twenty-five years later…) so some of the books were for my own self-imposed study.
I have added a few recommended 'research books' that have been used for teaching / my PhD studies at the end, if you're interested in what I'll be focusing on in 2020, or if you're a fellow radio/podcast researcher.
In no particular order:
1. The Truants – Kate Weinberg – started great, ending was okay, I think this will be a re-read.
2. Zac and Mia – A.J Betts – Australian – excellent read, will recommend to younger readers; the author was at a pop culture festival in Perth this year and had a lot to say about having work adapted for television.
3. Lab Girl: A Story of Trees, Science and Love – Hope Jahren – a lovely story, part of a reading challenge.
4. Children of Blood and Bone – Tomi Adeyemi – also a reading challenge, quite different from my usual mainstream sci-fi, very interesting.
5. Animals – Emma Jane Unsworth – the 2019 film was great too, directed by an Australian.
6. The Lessons – Naomi Alderman – I listen to her work in the Zombies, Run! exercise podcast all the time.
7. Strangeland – Tracey Emin – I picked this up after reading about her work in a magazine, wasn't too bad. I think I expected more about her art though.
8. My Friend Anna: The True Story of the Fake Heiress Who Conned Me and Half of New York City – Rachel DeLoache Williams – I zipped through this in two evenings, so I hope the author does other published things in the future. The part about t-shirts being worn around New York with slogans about the con while the trial was in process was very poignant!
9. The Scholar – Dervla McTienan – Australian
10. The Ruin – Dervla McTienan – Australian – both this and the above book by the same author were nice distractions during my winter insomnia.
11. Praise – Andrew McGahan – Australian – the author died this year and having never read his work, I decided to start with his first novel. VERY 1990s. It's so funny comparing what he and I experienced back then to the lifestyles and technology used by 20-somethings now. The part about cashing out at the ATM because of dole payments, for example.
12. The French Girl – Lexie Elliott – murder mystery, not unlike the previous one by Alderman.
13. The Poetry of Pablo Neruda – Pablo Neruda (I studied this for the WACE Literature exam)
14. Collected Plays of Chekhov (I studied this for the WACE Literature exam) – mostly read these plays at the laundromat.
15. Cedar Valley – Holly Throsby – Australian – I enjoyed her earlier novel, so I snapped this up in January.
16. Misfits and Me – Mandy Sayer – Australian – another reading for a challenge; I love her autobiographies.
17. Say Hello – Carly Findlay – Australian – she appeared at a writers' festival early this year.
18. The Incendiaries – R.O Kwon – small book, zippy read, interesting style. Ties in nicely with Zealot.
19. Believe Me – Eddie Izzard – I found this after seeing his Australian tour and watched his documentary.
20. Invisible Boys – Holden Sheppard – Australian – a great recent read; I'm certain there'll be comparisons to the TV show Euphoria.
21. Ninth House – Leigh Bardugo – THIS was a fantastic book. It took a while to get through, as it was during a busy part of my year, and I mostly read it the bath. I know there must be a sequel in the works, I also enjoyed her other series of books, but this is her first 'adult' series.
22. Little Monsters – Kara Thomas – a recommendation by a co-worker, another late-night read.
23. The Rumour – Lesley Kara – a brisk late-night read that was an interesting spin on the Mary Bell-style story.
24. The Testaments – Margaret Atwood – I think everyone read this in 2019… after enjoying seeing her talk at the Perth Writers' festival a number of years back, I think I might skip her $100+ tour in 2020.
25. See What You Made Me Do: Power, Control and Domestic Abuse – Jess Hill – Australian – this was a recommendation by a librarian, great research and very depressing, as you might expect!
26. Zealot – Jo Thornley – Australian – I interviewed the author, it's very much a "101 guide" to cults.
27. Catch and Kill – Ronan Farrow – yes, I know that absolutely everyone read this in 2019; I also found Jess Hill's book a useful insight when reading this too.
28. The Overstory – Richard Powers – funnily enough, a recommendation by both a librarian and Keanu Reeves!
29. Jog On: How Running Saved My Life – Bella Mackie – a recommendation by my boss; if I was only less injured I would use it to inspire running again this month!
30. Hello World: How to be Human in the Age of the Machine – Hannah Fry – a very kind gift by Penguin books.
31. The Incomplete Book of Running – Peter Sagal – another book recommended by my boss; the author is also a famous radio world figure.
32. The Sharper the Knife, the Less You Cry: Love, Laughter and Tears at the World's Most Famous Cooking School – Kathleen Finn – I started this after getting a recommendation after buying a Bourdain memoir.
33. The Gift of Fear: Survival Signals That Protect Us from Violence – Gavin de Becker – this was recommended in conjunction with Jess Hill's book and it's useful to read both. It's a work that has influenced a number of mainstream thrillers, I think.
34. The Weekend – Charlotte Wood – Australian – her earlier work The Natural Way of Things is a favourite.
35. Fleishman Is In Trouble – Taffy Brodesser-Akner – yet another 'everyone is reading…' book. I got this for the end-of-year holidays.
36. Milkman – Anna Burns – I suspect I'll be re-reading this again and again for quite some time in the future, it is terrifying, brilliant and hilarious.
37. One Ordinary Day – Leigh Sales – Australian – another 'everyone is reading…' book.
38. Daisy Jones and the Six – Taylor Jenkins Reid – I'm quite fond of 'as told to' articles, and this was a fictional extended version of that.
39. A Discovery of Witches series – Deborah Harkness – really three books, read over a number of months, but I'll count it as one.
40. New Selected Poems – Les Murray – Australian (I studied this for the WACE Literature exam)
41. Star Crossed – Minnie Darke – Australian – another challenge read, not my usual genre.
42. Cinderella's Big Score: Women of the Punk and Indie Underground – Maria Raha – another challenge book this year, I finally finished it.
43. The Secret History (audiobook) – Donna Tartt – I'm not really into audiobooks, more a Zombies, Run! listener or just music, but having the author themselves read this was a must.
44. Invisible Women: Exposing Data Bias in a World Designed for Men – Caroline Criado-Perez – another book that appeared on 'must-read' lists this year
45. See What I Have Done – Sarah Schmidt – Australian – also a much-appreciated Wikipedia editor!
46. Something in the Water – Catherine Steadman – the author is also an actor, and this was a great holiday read.
47. SPQR – Mary Beard – I've read this over a number of months, it made me miss studying Ancient History!
48. Terra Nullius – Claire G Coleman – Australian – while Dark Emu seemed to be on everyone's booklists, I decided to try this other local work.
49. Lady Sings The Blues – Billy Holiday – another challenge book
50. The Erratics – Vicky Laveau Harvie – Australian – for everyone who has horrible families, a good reminder that it's not the end of the world.
51. Where'd You Go Bernadette – Maria Semple – fascinating structure; while I didn't like some of the characters, the humour and mystery was very appealing.
52. Starsight – Brandon Sanderson – sequel to an earlier book I quite enjoyed during the year.
53. The Arsonist – Chloe Hooper – Australian – another challenge book, a (no pun intended…) slow burn of a recent mystery, particularly pertinent now during fire season.
54. The Library Book – Susan Orlean – an author whose works I'll always get when they're just released.
55. Shout: The True Story of a Survivor Who Refused to be Silenced – Laurie Halse Anderson – her fiction work Speak is a great book and thankfully still on the shelves at my local bookstore.
56. You Must Be Layla – Yassmin Abdel-Magied – Australian – another challenge book, I interviewed the author years ago.
57. White is the New Black – Nakkiah Lui – Australian – I saw the play this year, it was excellent and I hope it turns up as a play to be studied in schools in future.
58. Cork Dork: A Wine-Fueled Journey into the Art of Sommeliers and the Science of Taste – Bianca Bosker – I started this after an argument about whether wine-tasting is 'really a thing' and it was great to read this and then see the documentary Somm. Highly recommended.
59. Box the Pony – Leah Purcell and Scott Rankin – Australian (I studied this for the WACE Literature exam)
60. Social Creature – Tara Isabella Burton – I'm fairly certain I picked this up in 2019; a wonderful poetic structure with a chilling tale that is very, very Ripley. This and Genuine Fraud by E. Lockhart are shelf-mates. I hope someone does a compare-contrast on these in the future.
61. Normal People – Sally Rooney – heartbreaking. There were so many things about remaining functional in the real world whilst burdened with a dysfunctional family, and connecting with people despite the fear of communication that remain with me after reading this book. I got it at the end of 2018 and have re-read it a few times in 2019.
62. Eggshell Skull – Bri Lee – This one I picked up at a second-hand booksale at a school fete and while I was initially surprised that it was being passed on, after reading it I can see why the very uncomfortable topics within it might distress people. I think I was an incredible read and I'm thinking of getting Lee's next book.
Some research books:
1. Skywriting: Making Radio Waves – Robyn Ravlich – Australian – I really recommend this one, it's so wonderful to have this history out there!
2. Critical Approaches to Welcome to Night Vale – Jeffery Weinstock
3. Podcasting: The Audio Media Revolution – Martin Spinelli and Lance Dann (podcast series is excellent too)
4. Podcasting: New Aural Cultures and Digital Media – Eds. Dario Llinares, Neil Fox and Richard Berry.
Let me know if you have any recommendations for 2020. I'll be reading a lot more sci-fi, as a part of my PhD. Have a happy new year!