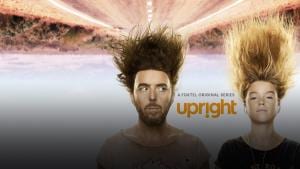 As both the owner of an upright piano and as someone who has travelled across the Nullarbor Plain by car three times (once from Sydney to Perth in the early 80s, then a round-trip Perth-Sydney-Perth in the late 80s) there's a few things that immediately came to mind upon starting to watch the TV series Upright (that is currently showing on streaming TV in the UK on Sky Atlantic / NOW TV and Australia's Foxtel).
Firstly, the horrifically nightmarish experience of travelling across the country in vehicles that break down and aren't covered by insurance is clearly not an uncommon experience. I can only thank the creators of this TV series for not featuring the same looping Bruce Springsteen tape stuck in a dashboard for days on end, ruining my interest in American heartland rock for ever more.
In fact, the soundtrack to this short series is a significant highlight, not just because of the original songs by Minchin but the range of Australian songs, despite a significant hat-tip in the plot to the non-Australian band ELO. I found a user-created song list of some of the tracks online, but hope that there'll be a Spotify list (or better yet, an album?) in the works sometime in 2020. The concluding track with Missy Higgins' singing "Carry You" would be a great start.
Secondly, the resilience of the piano (especially its ability to stay in tune after being hauled and even thrown off vehicles a number of times…) is possibly the most skeptic-making element of the series, although it's a perfect match for the resilience of the main characters. I could certainly argue that the piano itself is a main character, as it travels with its scars and dents across the country with the similarly dented Tim Minchin's Lucky Flynn (who as you may guess with that name, is spectacularly unlucky) and a runaway teenager Meg (Milly Alcock). I was reminded of both the novel Animals by Emma Jane Unsworth and the recent film adaptation by Australian director Sophie Hyde, where a piano also played a symbolic part (no pun intended) in the relationships of the main characters.
But Upright, unlike another popular film focusing on a stringed instrument, is no New Zealand epic with bonnets and picturesque seashores. The locations are bleak, the road is long and incredibly (and accurately) boring, and the final destination looks like it will be just as unwelcoming as the regular text messages that Lucky gets – all telling him that he's running out of time, that he's a failure, and his family don't really seem to want him arriving with piano in tow at all. As for Meg, her ability to dodge questions is akin to her talent for dodging responsibility for her actions and her past.
A significant theme throughout Upright is fear and dealing with fear. The ability to adapt, contextualise and cooperate in desperate circumstances – especially with a pending destination that seems fraught with tension (Lucky's flashbacks of fights, tears and what seems to be the world's worst best man's speech) is what keeps this journey going. That and the very engaging cameos by other actors throughout the trip, especially some unexpected attitudes and twists that I am loathe to reveal in case it spoils the plot. Despite a few different writers and directors credited, Upright does not burst at the seams with the patchwork of a combined road trip / female bildungsroman over the eight episodes. Quite frankly, it works better than a number of streaming shows that I've seen with bigger budgets and longer run times, which is quite refreshing.
It was nice to recognise the Cottesloe streets and the beach of my home town in the series, and we enjoyed the eventual revelations and resolutions of the various tragedies. I'm thinking about picking up learning the piano again next year. I still refuse, however, to take a road trip across Australia ever again.