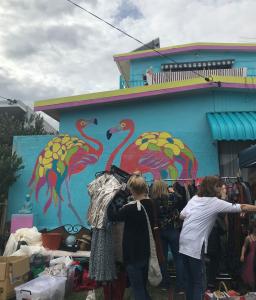 After spending the majority of last weekend in the editing booth working on things for my studies, I took a short break and went to a kind-of jumble sale at a house in the neighborhood on the way home
The distinguishing feature of the large house involved a big painted pair of flamingos on the side of it… That and a lot of people digging about looking for Moroccan-style decorations and buying second-hand clothing. Pretty much the typical thing that would take up my spare time on a typical weekend afternoon before COVID-19.
The very fact that I can go to a unknown house and not worry too much about the social-isolating distance is still something that shakes me after two months of hand-sanitizer and staying at least five feet from everyone. We are very, very fortunate here.
So concludes the reminder that I have the privilege of being in one of the most isolated places in the world, with government that insisted on locking down the borders fast, to the point that the Health Minister's wife is happy to exercise her right to attend a BLM rally over the weekend. There are now 21 active cases of COVID19 in state of Western Australia, and all of those people are currently in hotel quarantine. Nine people recovered yesterday, and the state's total number of cases sits at 601.
Venue Change
There's a venue change for that #BLM rally since my last blog post: it's now being held at Langley Park on the foreshore of the Swan River in Perth, in order to allow for more space between people. There's a current estimate of 8000 people attending. My university is one of many volunteer groups planning to be at the event, handing out hand sanitizer, medical masks, whilst reminding people to keep as much distance as we can from each other whilst attending.
I've donated to three different indigenous charities in lieu of attending. The cost of those donations would probably cover the parking fee, the cost of lunch and the train ride there and back and possibly a little more. That way I've shown my support and limited my social interaction in respect of how we are still under lock down but have the right to protest (or not!) as we wish. There's also a live stream via Facebook for anyone else who might prefer to show their support from home / have limited mobility / health issues.