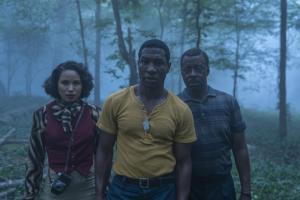 I've only had enough time to see a few of the episodes, but so far Lovecraft Country is doing quite well in comparison to another series I was transfixed by, Watchmen.
The story is based on Matt Ruff's fantastic 2016 book of the same name, and whilst it touches upon Providence's prized horror fiction author H.P. Lovecraft's stomping grounds, it very much tackles the very real Jim Crow-era. If you know anything about Lovecraft's beliefs, the irony certainly isn't lost! The show is the brainchild of showrunner Misha Green and produced by two great fantasy creators of Hollywood, J.J. Abrams and Jordan Peele.
The story focuses on a young, Black, Korean War veteran named Atticus (played by Jonathan Majors), who is on a road-trip to find his father, Montrose. Montrose is believed to be lost in a mysterious place called "Lovecraft Country". Atticus is joined on his journey by his Uncle George (Courtney B Vance), who writes Black travel guides (a fascinating focus of the start of the novel too), and childhood friend Letitia (Jurnee Smollett).
It doesn't take long before they're facing real-world monsters with some hair-raising driving stunts as Letitia demonstrates some impressive skills in their getaway. But then it becomes a horror of another kind, with a truly terrifying cottage in the woods showdown. Then there's the Hermetic Order of the Golden Dawn-style charming castle in the country, housing Tony Goldwyn as Samuel Braithwhite with a very foreboding smirk. It's not so charming a castle after the first day or so, but the twists and turns in the plot don't end there, thankfully. I particularly enjoyed the soundtrack and the amazing visual effects, from loping many-jawed monsters to some really surprising car accidents. And what my partner calls 'a load-bearing boss' joke.
With a mixture of sci-fi and ancient supernatural lore, with a firm approach to the horrors of racial injustice, it certainly isn't Lovecraft's original story but is still one that is very much worth catching. There's still quite a few episodes to go this year, so I'd suggest catching up on the novel while you're waiting for the rest of the series to continue.