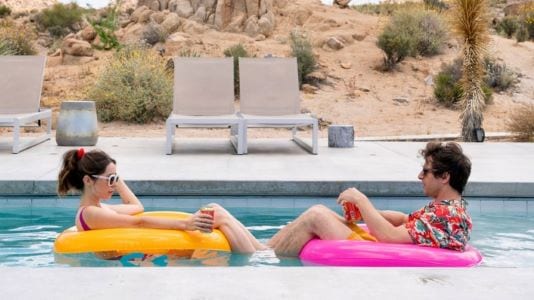 Nyles and Sarah (SNL's Andy Samberg and HIMYM's Cristin Milioti) are having one of those days. At least they are until around about five minutes into the movie… when you realise that Nyles has been having one of those days for quite some time now.
I was recently discussing with my partner how it was unlikely we'll see the musical Groundhog Day in this current year (and maybe for the foreseeable future), and it led to a discussion of this movie. Time travel movies (or 'time loop') are always (god, the puns…) going to pop up again and again.
The theme is a fairly easy staple of independent producers (some faves include Timecrimes, See You Yesterday, Predestination) and bigger productions (of course Bill and Ted series, Arrival, but also About Time, all those Terminator movies, and of course the film I reviewed recently, Tenet). So… why not take the well-worn path mid-way through and go from there?
I first though this was going to be like the mildly-amusing distraction of a movie Destination Wedding, but it's got an wildly psychotic J.K. Simmons, Australia's Chris Pang getting to use his authentic Melbourne accent, and a dismissive approach to the multiverse. For a romance, it's fairly slow going; as a sci-fi movie it is more about the 'what if' instead of the 'how did' – and I just really enjoyed all the funny scenarios. This is a light-hearted distraction with less of the gore that peppered the similar-themed Happy Death Day series and is not without some thought-provoking unexpected twists. I'll leave that up to you to discover, because you should see it.
Oh, and it has my favourite Genesis song, "The Brazilian", so I'm glad someone else finally discovered it.