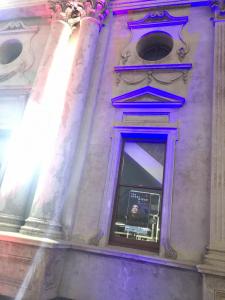 I saw an accident on the way to see the production of Fremantle Theatre Company's production of The Other Place by Sharr White, a play beginning its run this week at Victoria Hall on the High Street.
On the corner of Hampton and Clontarf, a ute had flipped. It was completely flipped over, sitting in the middle of the road whilst cars began to back up behind it. The neighbourhood gathered around to sort out the calling for police, towing, what have you.
What caught my eye (apart from being thankful that no one seemed hurt and it was just the one car that flipped – no idea how it did that, it seemed bizarre) was a elderly lady just leaning on her yard fence watching all the fuss. She was one of the typical Freo locals you associate with the older areas of town, a very Greek-Italian region, with plinths out the front of the property and vegetable gardens all around the houses. Perhaps the accident on her doorstep was more exciting than doing the lotto numbers that evening.
I miss the traditional side of Fremantle, something I was familiar with back in the 1990s when I spent nearly a decade studying at the university. It's sad that it takes a car accident to remind me of those times. But more happily, those memories of a busy, on-the-edge-of-hipster 1990s has been encouraged by my experience of a newly revamped Victoria Hall. It now includes a bustling restaurant across the road and an about-to-be-launched FOMO building. Even if you have to hold your breath in and wiggle sideways to get a drink at the theatre bar. I ended up drinking it in the little courtyard out the back because drinking it inside the building would have required a dislocated shoulder. I remember catching productions by Deckchair Theatre in this space; it's a real relief to see it revived during 2020 (of all years!).
This production of The Other Place features what Perth is now probably calling"local legend" Kate Walsh in the lead as Juliana, and an equally amazing cast. This includes in the role of Ian, Dalip Sondhi (former WAAPA lecturer and star of TV's Pulse), Lucy Kate Westbrook as Woman/Dr Teller (a Stella Adler graduate and local TV star) and Mararo Wangai (a Kenyan born actor whose multiple talents include being a Patrick White shortlisted author). While the director Chris Edmund wrote in the program of delaying his planned Dublin play premiere, he's taken the opportunity to make this first FTC production memorable. The lighting and sound is subtle (although the symbolism of the waves and rain near the end is particularly striking), but it's the staging that really helps make this tale of disintegration and emotional alienation.
"When we do wear heels – unless we immediately prove we are the smartest people in the room – we are not taken seriously."
At the start, Walsh's Juliana confidently blows smoke rings, wears a black silk suit and struts down the cat-walk like stage to announce that her research has led to a potentially billion-dollar making pharmaceutical discovery. But her presentation is continually disrupted by phonecalls, flashbacks, resulting in a slow dishevelling of this former neuroscientist-turned-marketing maven. With the interjections of her bewildered husban Ian and the psychometric testing interviews by a gentle Dr Teller, the contradictions begin to pile up.
Why has the runaway daughter of decades ago reemerged? Who was the strangely inappropriately dressed woman in the presentation audience? And why does the formerly witty, sharp-tounged and confident Juliana begin to shake to her foundations when she realises her mocking of the woman is not only pointlessly cruel, but a sign that she too is not taking other women seriously? And what does that mean about her relationships with other women, particularly younger women like her own daughter?
Moments of wry humour become bleak black comedy as the stage turns into a fencing piste for Juliana and Ian's relationship, then a lonely pier with ropes snaking beneath its fragile boards. I was so convinced by all of them, that it seemed as if there were a great many actors rather than just four. Irony abounds with the situations and wordplay, and a final stinging image framed beautifully by the production as a distant lens into the past, as Juliana finds an ending to her mysteries.
The thriller aspects reminded me of the 2014 Black Swan Theatre production of The House on the Lake, but also Sydney Theatre Company's 2017 production of Away. Vibrant staging, tight acting and clever use of space in all three productions. Next to me a fellow audience member (unironically) puzzled aloud why it reminded her of a film with Julianne Moore, although I was more reminded of Memento with the shifts of time, memory and perception.
This production is only just starting its run (which is why I snapped up cheaper preview tickets) and while the ticket prices may be a bit out of reach for many people these days, I think the staging and the small space (let alone the acting) means you're unlikely to find a bad seat for this show.
The Other Place is showing at Victoria Hall, Fremantle, until 8th November, 2020.