Just a few musings on the conclusion of The Boys, Season 2 (note, some spoilers!)
Like most people, there was a little bit of dismay to discover the second season's staggered release schedule of shows. But it's understandable that the staggering compliments the 'companion show', Inside The Boys – an official after show hosted by Aisha Tyler, featuring lots of interviews and jokes with the actors and makers of the show. It was a little forced-seeming for the first few episodes, but I got to enjoy seeing the actors relaxed post-filming and they genuinely seemed to have bonded as a result of the series, which is always cute. Especially all the New Zealand talent!
In short, Season Two of The Boys was just as graphic, fast-paced and downright horrifying as the previous season. After some significant therapy I might be able to see a whale again without cringing. I really enjoyed the further development of the sign language by Kimiko and the relationship between her and Frenchie, and Hughie and Annie/Starlight. It was particularly cool to see how Billy Butcher and Annie came to an understanding about how they both felt towards Hughie (even though it took a really scary accident to make them bond together).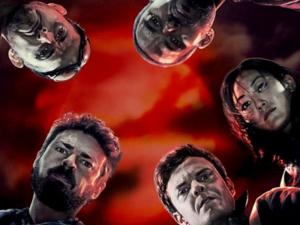 It did, however, lead me to be more philosophical about the progress of the plot and muse upon what 'realism' exists in this unrealistic super-hero series.
Would superheroes be consolidated into a corporation? Sure. The element of having advertising, merchandise, film-making, efforts to manipulate government contracts… doesn't sound that dissimilar to other large consortiums that get heady with power and start seeing how they can spread their reach from making money to influencing change that makes them even more powerful. Hey, isn't this show on Amazon Prime?!?
Having a group that originated from Nazi origins/sympathising? There's already an extensive list of that kind of thing. Vought International is nothing new.
Sage Grove Centre and the culling of superheroes that didn't quite make the cut (no pun intended with the Love Sausage character…)? I wouldn't be surprised if that kind of thing could happen. I was a little surprised not to see more of the character Cindy, last spotted hitch-hiking away from the centre after it fell to pieces after the invasion. Something for a post-pandemic Season 3?
The spin and churn of social media manipulation with memes and trends as orchestrated by the likes of Stormfront is just so 2020, that it goes without comment. Although I did like the backlash at the very end, it was probably the most unrealistic part. Maybe that's another 2020 response to what I see happening in politics though. I was genuninely upset by the death of storekeeper Kuldeep Singh at the hands of a fanatic anonymous man, and like the first episode of season one, it emphasises the impact on innocent people in this world of superheroes.
Oh, and before I forget – organised cults trying to get their piece of the powerful action when it comes to enlisting figures in pop culture (like the Vought superheroes) in their regimes? No, that doesn't remind me of anything. At all.
I am wondering if I'd watch these two seasons again at some point during the holidays, and perhaps the graphic, violent nature is a bit of a deterrent for me right now. But you end up caring about the characters, despite… well, everything like the language, the situation, the violence. Maybe it's just too 2020 for me at the moment and I need a little escapism of another sort. But despite all the 'bad' reviews that it's getting by a few "disappointed" people for this season, I'm glad The Boys is still out there and producing challenging content.