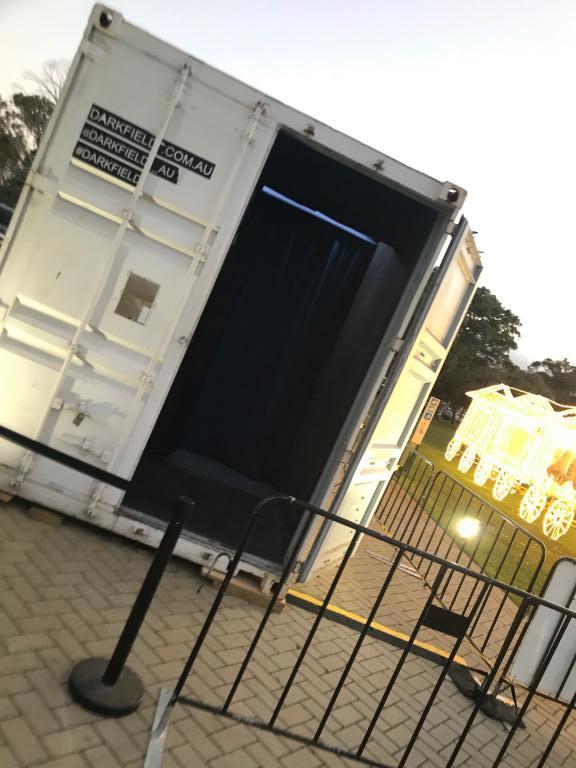 This is not my first Flight and it will not be my last.
FLIGHT is an unsettling journey in complete darkness inside a 40ft shipping container. In the unlikely event of a sudden loss of cabin pressure, alternative scenarios will be provided. There are many worlds in which this plane lands safely.

Following its predecessor FLIGHT employs DARKFIELD's signature combination of pitch darkness and binaural audio, but expect a very different experience to SÉANCE. We are not responsible for your final destination.
If you've missed my previous reviews of Darkfield binaural audio experiences, you can find them here (Double) and here (Eternal). But while those were online/app experiences, this is what Darkfield is more known for in terms of theatrial expeiences: being joyfully terrified in a box with some headphones on.
Take Off
But Flight is no ordinary box theatre. This is a fully-kitted out plane on the inside, with passenger safety cards (although I suspect these were removed this round due to safety reasons – ironically – but they were fairly comprehensive the first time I saw them). We had to put any bags into overhead lockers and went through the usual shuffling around (that you haven't really missed during a global pandemic, quite frankly) in order to get to an assigned seat.
All the while, an Aeroflot-style safety video plays on the inflight entertainment screen in front of us, with some unusual glitches and hitches throughout. If you pay attention closely to the instructions, you get some early clues to the story that will unfold.
I think that was the scariest part to begin with. I have had some odd little flights across some interesting terrains (I have nightmares about a years-ago flight from Canberra to Wagga Wagga for example, where I counted every second under my breath, much to the amusement of a nearby child) and this pretty much sets up everyone's favourite 'is there anyone actually flying this thing??' fears.
Let alone the turbulance, the flurry of invisible flight attendents trying to keep everything and everyone together… and then the probability kicks in. Along with the chance to swap your seat mid-flight.
Then it gets really weird…
This was a lot of fun and as a second-time visitor, I paid more attention to the elements of probability and the effects. It's not suitable for the under-15s (understandably) and despite the 'binaural audio' being the main attraction, expect hydralics, movement of the seats and even a little bit of theatrical trickery throughout.
Flight is in Mandurah, on the north foreshore until the 20th December.
[I was going to write a review of the soon-to-be-released film "The Dry" this week, but the embargo is the 12th. So, I recommend reading the book while you're waiting!]