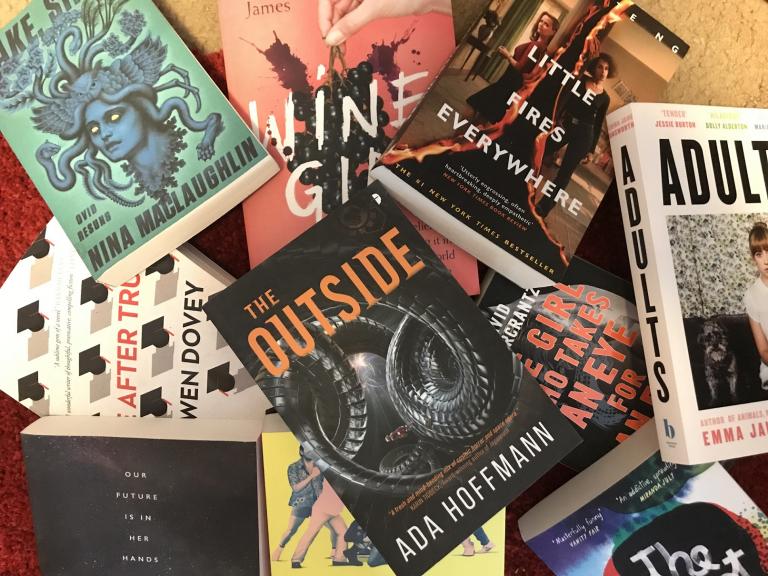 Escapism drove most of my reading this year, and yet I still found myself re-reading World War Z. Which then led to feeling tense and worried about everybody and everything in the world. Escapism is difficult when there's lots to escape.
Back in 2019 (a million years ago?) I wrote that I left some books off my list of sixty-strong memorable reads, and that I would be continuing to read into my holidays. Next to me is a copy of Station Eleven by Emily St. John Mandel, and I was all set to start it at the beginning of 2020. I still haven't cracked the cover. It's about a pandemic. I bet it's really good. It's still unopened. That says it all. Maybe in 2021?
In no particular order:
1. Adults – Emma Jane Unsworth – followed on from reading and seeing the film of her earlier work, Animals.
2. The Dry – Jane Harper – I 've yet to review the film, but in short? The film was as great as the book.
3. A Deadly Education – Naomi Novik – as I promised myself more science fiction this year, this fits… and it was also a very speedy, morish read. Enough that I've now read it several times!
4. Smart Ovens for Lonely People – Elizabeth Tan – she was interviewed by one of my students, just before she won the 2020 Readings Prize for New Australian Fiction! So, I went and got a copy and enjoyed it a lot.
5. Antkind – Charlie Kaufman – screenwriter and film director and now novelist! Large book, was great escapism this year, because it's all about escaping.
6. Sex and Vanity – Kevin Kwan – I was unsurprised to find much of this book was inspired by the Ivory and Ismail film of E.M Forster's book A Room With A View.
7. Rather His Own Man – Geoffrey Robertson – one that I meant to get around to reading for some time and I even started following the law business on social media regularly to find out more about the pro bono work done by Doughty Street Chambers.
8. Something Borrowed – Emily Giffin – sheer escapism after I found the silly, quirky film on Netflix.
9. The Southern Book Club's Guide to Slaying Vampires – Grady Hendrix – a recommendation by the Bloggess, and it was quite surprising considering how it started. Not sure if I'll return to a re-read, but very literate horror.
10. Today Will Be Different – Maria Semple – got this after enjoying another work last year, Where'd You Go Bernadette. The little comments about skepticism were particularly amusing.
11. Catherine House – Elisabeth Thomas – I seem to be reading a lot of school-setting-mystery-horror books this year, including…
12. My Dark Vanessa – Kate Elizabeth Russell – absolutely horrifying tale of deception and self-deception, took a while to read because it was so disturbing, akin to Alissa Nutting's Tampa.
13. The Other's Gold – Elizabeth Ames – more school-based stories and fraught relationships.
14. All the Beautiful Strangers – Elizabeth Klehfoth – even more murder on the schoolgrounds, this one kept me guessing.
15. Goldilocks – Laura Lam – another great sci-fi book recommendation from Stefen's Books in the city, along with…
16. The Deep – Rivers Solomon – great little novella and a fascinating take on the myths of mermaids.
17. Wake, Siren – Nina Maclaughlin – another mermaid-like tale, but with more Ovid, more beauty and terror.
18. The Outside – Ada Hoffmann – another Stefen's Books recommendation, a great and different read on perspectives of space exploration.
19. Come: A Memoir – Rita Therese – recommended by social media and a well-crafted exploration of a young life with some unconventional career choices.
20. Wine Girl: The Trials and Triumphs of America's Youngest Sommelier – Victoria James – I got this after enjoying Bosker's Cork Dork, because James is mentioned in that book. This was a great read and I'm hoping to get an earlier work by James on 'pink wine'.
21. Untamed – Glennon Doyle – third memoir in a row – this was on the bookshop shelves everywhere and so it was inevitable! An investigation of mothering is what I'd call it, on identity and challenges.
22. The Rhythm Section – Mark Burnell – I've always liked spy novels and I was hoping to catch the film at some point.
23. Again, Again – E. Lockheart – this took a while to unravel, but much like the non-Snickett works of Daniel Handler, a great teller of relationships and interactions.
24. Devolution – Max Brooks – reviewed here! Remember my mentioning World War Z?
25. Little Fires Everywhere – Celeste Ng – enjoyed the TV series, enjoyed the book so much more, which led to…
26. Everything I Never Told You – Celeste Ng – took this one with me on a little stay-cation and it kind of melted in the bath when I couldn't stop reading it, which is always a sign of an enjoyable read.
27. The Idiot – Elif Batuman – a tale similar to the next book on my list, but with less murder and more the slow discovery that things aren't what they seem (and how it's particularly disappointing when you're young and hoping that linguistics is the answer to everything. It isn't.).
28. Life After Truth – Ceridwen Dovey – I really enjoyed untangling this one, which has a lot of philosophical musings about relationships and truth to oneself… and a very clever murder mystery.
29. David Lagercrantz's The Girl… series – I'm going to count these three books as one book, as I got into them during the early stages of the pandemic lockdown and it was a very quick route to 'please, anywhere but here'.
30. The Chiffon Trenches – Andre Leon Talley – the documentary was out in 2017 and I only got around to this now, another great insight to the fashion publishing industry.
31. Wild and Crazy Guys: How the Comedy Mavericks of the '80s Changed Hollywood Forever – Nick de Semlyen – did you know Bill Murray studied philosophy at the Sorbonne in Paris? Can't get more escapist than this investigation of the key players in comedy (note, all about men; I hope there's an equivalent investigation of women's contributions in the works, akin to It's A Joke, Joyce by Wendy Harmer).
I'll stop there (even though it's about 30 short of last year's list! I blame the PhD writing getting in the way of my reading…) – because it's getting late, and even though it's around a handful short of what I've read this year, and certainly doesn't count the re-reads I do periodically to take a break from work. I'm attempting to clean the house these days rather than tear it apart looking for books.
The death of John le Carré led to some retrospective reads of his works, and I've started collecting hardcover versions of his works after discovering the beautiful covers of Coralie Bickford-Smith, and collecting some of the Penguin clothbound series she's done too.
I should add the classic science fiction collection by Penguin called the Galaxy Series, but most I have enjoyed already (and it was just a chance to get a nice hard-cover series of books on my shelves where I've been dying to feature a tidy bookcase of "proper" books rather than way too many Penguin black-spine classics and overly-dogeared paperbacks that have been loved to near death with bathtub dunkings).
On my too-read list over the next few days: Craig Silvey's Honeybee, Walter Tevis's The Queen's Gambit, and Raymond Carver's What We Talk About When We Talk About Love, along with a stack of magazines I'll take on holiday. I also highly recommend the serialised novel The Sins that's in the works, that Dr Brooke Magnanti is writing over on her Patreon.
Thanks to everyone who has been keeping up with my blog or have newly discovered it. Stay safe. Please, stay safe and take care of each other. And have a happy new year!