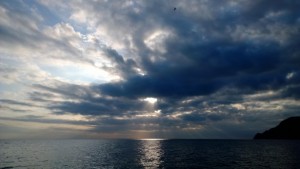 Looking back on his youth, back to a time when C.S. Lewis was then still an atheist, he said this about agnostics in their search for God: "they might as well have talked about the mouse's search for the cat."
A terrifying thought that.
So how should one seek God? Just how do we go about it?
I suppose having a modicum of faith – a mustard seed of faith – is enough to start.
And then perhaps an openness, a receptiveness, to listening for God's voice calling from deep within us, and recognizing his presence in our everyday lives.
Prayer and quiet time no doubt help.
No, on second thought, those are both essential – even if our quiet time consists merely of the child-like but sincere petition: "Lord I believe, help my unbelief."
Our celebrant at today's Mass referred us to Father Jim Martin's book, My Life With the Saints.
Contained within that book is a tale told by Peter-Hans Kolvenbach, a Dutch Jesuit and a former Superior General of the Society of Jesus.
Father Kolvenbach told the story – perhaps apocryphal – of an abbot who spoke frequently to his charges about searching for, finding, and encountering God.
One of the monks to whom he once spoke sharply questioned the abbot, wondering whether the abbot had ever actually and directly encountered God.
No, the abbot admitted, he had not.
Yet, the abbot continued, this is neither a cause for alarm, nor surprising at all – for even Moses was allowed only to see God's back as he passed by.
The abbot explained that what he saw clearly in his life was the "passage of God" within it.
Father Kalvenbach then added:
In this sense, it is less a matter of searching for God than of God allowing oneself to be found by Him in all of life's situations, where he does not cease to pass and where he allows himself to be recognized once he has really passed: "You will see my back." (Emphasis added)
Jim Martin sums the passage up in this way:
More often than not, God is most easily found by simply looking back over your life, or your week, or your day, and saying "Yes, there was God." Finding God is often a matter of simply being aware, or simply remembering.
To find God, look back at your life.
Can you recall a moment – any moment – when you felt God's presence or have "seen His back"?
Can you remember a confidence, a certitude – even in and through your pain – when you might have experienced a guiding hand, or a calmness, a peacefulness, or even some small movement forward?
It is, of course, not a sorrowful nor a fretful thing to admit that you haven't as yet.
It just may mean that you need to take some time to reflect.
To be in silence.
To unplug from the world.
So why don't we all take a moment today to think back on our lives.
And to give thanks.
In so doing, we can begin to listen closely for that voice from deep within.
And we may well come to recognize that our search has been more fruitful than we ever realized.
For the hunter is, in reality, the hunted.
And He may have already captured us.
Peace
Photo Credit Here (Ian Bunyan)