The Challenge
The book of Job outlines the plight of a righteous man undergoing severe testing so that he may come out victorious through his faith in God. The first two chapters of Job set the stage for events to follow. Satan's challenge to God that Job only fears God because of the material goods became the ultimate showdown to prove Job's righteousness.
Interestingly, God allowed Satan to remove everything considered valuable in Job's life – his children, servants, and livestock – yet he still worshiped God. After a second encounter with Satan in chapter 2, God taunts Satan again. Satan issues a second challenge that ultimately leaves Job with a horrible skin disease as he sits in an ash heap. As Job sits in agony, his wife enters the picture. Job's wife's advice to curse God and die seems on the surface a cruel and heartless gesture, but was it? Was she a blessing or curse?
The Hebrew Verb bā-rêḵ
Chapters 1 and 2 of Job offer an insight into the author's use of the Hebrew verb bā-rêḵ, most often rendered to bless. The word appears with its cognates five times beginning with Satan's encounter with God in Job 1:6 and ending with Job's rebuttal of his wife in Job 2:10.
My Hebrew and Greek professors always taught me that when you encounter a word frequently appearing in a passage, you want to pay close attention to what is happening. Interestingly, the same term, bā-rêḵ translates both bless and curse interchangeably throughout the passage. How we interpret bā-rêḵ depends on context. Knowing how Job's wife uses bā-rêḵ in Job 2:9 is key to understanding her attitude toward her husband's suffering and plight.
His wife said to him, "Are you still maintaining your integrity? Curse (bā-rêḵ) God and die!" He replied, "You are talking like a foolish woman. Shall we accept good from God, and not trouble?" In all this, Job did not sin in what he said.
Interpretations vary, but all familiar translations (NIV, KJV, NKJV, ESV, NASB, CEB, AMP, HCSB) translate bā-rêḵ as a curse in verse 9. Did Job's wife entice him to sin and curse God? Cursing God would have surely guaranteed death, according to Leviticus 24:14-15.
Say to the Israelites: 'Anyone who curses their God will be held responsible; anyone who blasphemes the name of the Lord is to be put to death. The entire assembly must stone them. Whether foreigner or native-born, when they blaspheme the Name they are to be put to death.
However, we must be careful to observe that the word rendered curse in the Leviticus passage qal-lêl carries a more forceful and offensive rendering. How, then, do we understand the nuance of the word curse in the Job passage? Interestingly, at the beginning of chapter 3, Job curses the day of his birth, invoking the stronger term qal-lêl. He does not curse God as he curses the day he was born. When we observe how Satan uses bā-rêḵ in verses 10 and 11, we see how he acknowledges God's blessing on Job and Job's hypothetical response to removing that blessing – a curse.
It would appear Satan twists the nuance of bā-rêḵ to place Job in blaming God for his suffering. In Satan's scenario, Job would acknowledge God as the source of his misfortune and thus cease rendering God the honor he deserves. I will bless you as long as you bless me, or more accurately, I will bless you according to how I perceive you bless me. Instead, Job would acknowledge what was true concerning God. He is the ultimate source of blessing. Here in verse 11, Satan uses bā-rêḵ euphemistically for the translation curse. Again in Job 2:5, we see Satan's parallel usage of bā-rêḵ as he did in verse Job 1:11. One may even find a chiastic structure from Job 1:10 to Job 2:10.
a. 1:10b (Satan) You have blessed the work of his hands, and his possessions have increased in the land.
b. 1:11 (Satan) But stretch out your hand and touch all that he has, and he will curse you to your  face." 
c. 1:21b And (Job) said, "Naked I came from my mother's womb, and naked shall I return. The LORD gave, and the LORD has taken away; blessed be the name of the LORD."
b'. 2:5 (Satan) But stretch out your hand and touch his bone and his flesh, and he will curse you to your face."
a'. 2:9 Then (Job's wife)said to him, "Do you still hold fast your integrity? Curse (bless) God and die."
In this scenario, we see the parallel between Satan's accusation of God (a) and Job's wife's taunt of Job (a'). Here, if blessing is the proper translation, then it would appear his wife is using it sarcastically as did Satan.
The Case for Job's Wife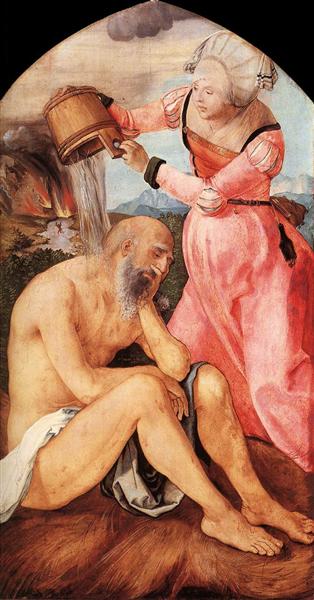 In the Women's Bible Commentary, Anne Stewart notes the many nuanced ways translators have understood Job's wife's response to Job's suffering through the centuries. She observes Augustine's comparison with Eve in his Expositions on the Psalms. Here, Satan attempts to use Job's wife as a tool to tempt her husband to do evil. Job, unlike Adam, did not succumb to his wife's suggestion to sin and curse God. In the Testament of Job from around the time of Christ, the author expands the narrative of Job's wife, painting her as a compassionate wife who works as a maidservant to provide bread for Job. She is compassionate toward's Job's suffering, but Satan deceives her to sell her hair for bread. After this, she ends up sitting on the dung heap with Job and laments her situation looking less righteous than Job.
Job's wife is distraught at her husband's condition in verse 9 and questions Job's decision to continue in his righteousness. Her suggestion to curse God and die appears to be a plea for Job to admit God as the source of his suffering and give up his struggle to maintain his innocence. Her intentions seem to offer Job a way out of his condition and accept defeat, possibly by suicide. By ending his life, Job would also end his suffering and hers. However, as Job's response indicates, her suggestion is foolish, seeing that we must accept both good and calamity from God. Notice that Job does not call his wife foolish, only her suggestion.  
We need to reconsider our position concerning Job's wife. She made a rash and foolish statement, but I believe she genuinely loved her husband and had the utmost compassion for him. It would seem as if she fell into deception, as did Eve by the devil, and spoke out of turn. We can discern much from silence. We do not hear from Job's wife after chapter 2 and assume she died afterward. More importantly, God does not confront Job's wife or make any correcting comments concerning her. We know Job has children again much later in the book, but we do not know if his wife is still alive. 
Conclusion
We learn that Job maintained his integrity, and God eventually restored his fortunes. Job's wife is the only remaining household member who survived Job's trials. Perhaps she bore him children at the end of the book. One would hope that given Job's righteous character, his wife would have mirrored the same righteousness throughout her life. Her plea for blessing God and dying may have been a compassionate plea for her husband to acknowledge God as his judge and find rest from his troubles. Instead, Job seemed more concerned about his children cursing God than his wife. We tend to be harsher critics of Job's wife than the Bible. Let's also remember our Lord's compassion for us before we judge others too quickly.