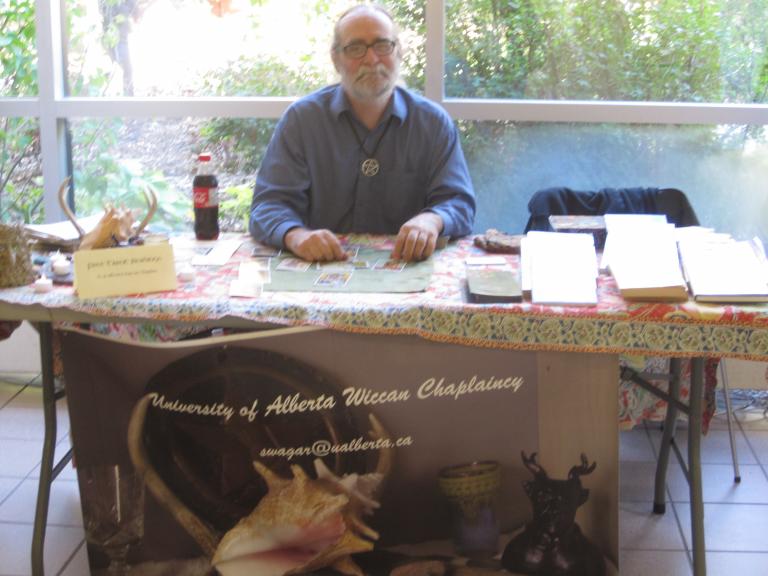 20th of September 2018
A slice of life today. This week has been very busy with Witchy things and it is going to continue to be so through this weekend. I'm really delighted by this and hope it keeps up. I should warn you, dear readers, that I'm very involved in my volunteer chaplain gig right now. It's the start of the school year and lots of things are happening! I'll have other things to write about eventually.
The first meeting of the Wicca 101 class series that I am teaching, with the assistance of my friend Chelsa, was on Tuesday evening. A friendly small group (a little smaller than I had thought that we would get because of illness). Another friend, Emmett, was interviewed to become the Associate Wiccan Chaplain, and then voted on by the members of the Chaplains' Association – he will be a great help to me and it will be a great way to deepen his clergy training through Sacred Oak Temple.
And then Wednesday I had my first weekly Tarot Table of the academic year. I enjoyed doing this last year as an outreach for my chaplaincy, also for the chaplains' association in general. I set up in the Student Union building (book the table ahead of time) with some altar fixing and some books on Tarot and Wicca, and a sign offering "Free Tarot Readings". I give interested people a quick blurb about the chaplains and a copy of our brochure, if they want it, and then do a quick three card (past present, future) reading for them. Sometimes people are interested in finding out more about Tarot, sometimes about Wicca, so I sign them up for my mailing list, and I often have interesting conversations. Usually I do between twenty and thirty readings – this time it was a tally of 26 so I'll say probably thirty. And four interesting conversations in four hours.
Today, I'll be offering a Harvest Home ritual centred on asking Athena and Hermes to bless our academic year, offering our work up in service to them, and offering mead, honey, and grain as well. Since this is the first rite for our small Pagan group, I have no idea how many people to expect, but I'll be satisfied with three or four to start.
"Hail to you, Hermes.
May what we say and think in this coming year
be beautiful and strong and clear.
I dedicate what I say to you.
Farewell."
"Hail to you, Athena.
May our thoughts be deep and meaningful,
may we learn together and inspire each other's learning.
I dedicate what I learn to you.
Farewell."
Then, this weekend, I will be in Calgary for the Calgary Pagan Pride event. That will be fun. I'm doing a workshop there on starting up a temple – legal nuts and bolts. I'll also be meeting with people from at least one Calgary group that is interested in getting a public Temple going there. It's a large city with quite a few Pagans of various sorts, and it should have at least one public temple. But we'll see what people there think about that. At minimum, I'll enjoy seeing some friends and having some entertaining discussions with people.
A lot of things going on. I am looking forward with excitement to this academic year. Plus, I have some interesting new books. Maybe I should do a couple of blog posts on cool books I've been reading?
Blessings of this harvest season on you all. May what you planted hopefully in the spring have come to bear abundant fruit. May the summer's labours nourish you through the coming months of cold. Blessed Be.