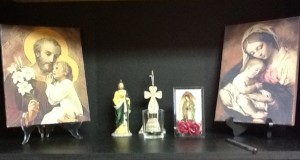 Easter was a personal hell when I was a minister. He is risen, but I was barely there. Everyone dressed so well and attended the Easter mass and I loathed most of the one timers and was not fond of my board. Easter was hell.
As I entered my early time into the secular world I triggered from the pain of Easter's prior and loved to rub the pagan roots of the holiday into others who dared celebrate it. He never rose, and I could barely make it through the day. Easter was hell.
Today. I do not have to work. The streets are quiet. I see kids having fun. I smell ham baking in my condo complex. I hear laughter and see many people who would normally have to work today just enjoying the day. I am enjoying the day as well. Easter ain't so bad. This is actually a pleasant day.
When I was a pastor, this was the busiest time of the year for two reasons. The first was all the traditional aspects of the season that starts far earlier than Easter Sunday. If you were someone who took their job and their faith seriously, which I did, there was a lot more observance into the day. This was one of the longest and holiest of seasons. In all honesty, it was the loneliest. As you made proper preparations you were surrounded by boards and congregations that wanted to ensure you got it right, but did little or nothing to help or even understand what this was supposed to be about. Unpaid overtime in a community of one.
The second was the pragmatic aspects of this being one of those days that people went to church who never came. Like bars on New Years and St Patrick's day attracts people who don't normally go to bars, Christmas and Easter are the days for those same people to go to church. You have one chance to make an impression and touch them in such a way that they will come back. Like mailers, you will get a 1-2% return on investment, but you give it your all.
The service itself was a joke. Everyone suddenly dressed up and a big day was made of it. Children were shamed for being fidgety in the name of some guy who allegedly rose from the dead to end shame. Everything and everyone was judged in what was supposed to be a time of no judgement and forgiveness. Everything was fake and pretense for no good reason and I was exhausted, spent, and done.
That was Easter. A time of never measuring up to the expectations of others who were supposed to stand by me while trying o make other people happy who would never come back in the name of an event I no longer buy into. Yeah. I was pretty bitter.
In my post ministry and post theistic life raising my son, I got more bitter that in the name of this Jesus that some would dare welcome all only to exclude those like my son. All can come, but if you do not change, we will go back to ignoring you. I know that is not all of Christendom, but it is enough of it to get men like Trump elected president. It is enough to have horrific laws passed in this land that restrict the civil rights of LGBTQIA people like my son. There are enough of that ilk that keep women's equality, protections and justice restricted. It is enough to stop safe harbor for refugees. These are the people that celebrate Easter most loudly and it is to those that many of us rebel. Their most free day is our day of restriction. Screw that and screw them.
Today. My give a damn is broke. Soon I will make some dinner for my son and I. Soon I will just enjoy a nice day off, listen to children laugh, and maybe eat some ham and some peace and quiet. That is good enough for today. It sure beats working a 12 hour day for people with high expectations and no love yapping about something that is now property of the empire.
Closing thought? Back then my child lost me for a month and a half while daddy worked too damn much. Today, he gets me and he does not have to suffer fools judging him in a building there is supposed to be none of that. But let's be honest, on this day, there is far more of that there than there is in the parking lot of my condo.