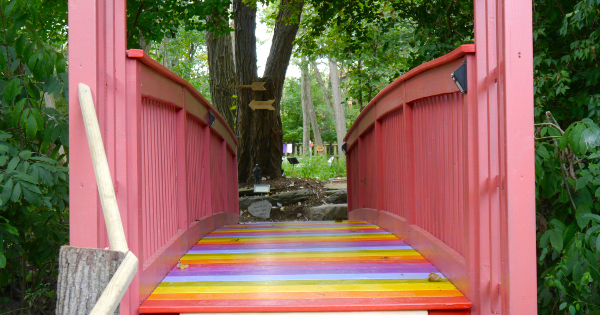 My son stared in amused disbelief at the shirt my fiancé and I bought him. It was an impromptu celebration of his first year on testosterone. We gave him a very campy Mr. T tee shirt to hallmark the occasion. Little did we know that Hallmark had a card for this.
A few weeks ago I told readers about my concerns that a precious future and memory was threatened by the GOP and Trump's AHCA. It was, and is, my fear that political change could undo the wonder of a lovely anniversary. In the trans community and the trans parent community we commonly refer to testosterone as T. My fiancé helped me pick out a campy tee shirt of the 80's star Mr T. It was our pun to celebrate the day. He loved the Mr T shirt and the fidget spinner as well.
Celebrations, even small ones, are important things to do in the name of love. His anniversary on T was May 5th. It was not until May 11th that I discovered something going viral fast on twitter. It was this:
I've never seen Hallmark cards for gender transitioning before! Capitalism triumphs over hate?? pic.twitter.com/GFn1EY6YoA

— Renata Sancken (@renatasnacks) May 11, 2017
Hallmark has a transgender transitioning card? Hallmark has a transgender transitioning card! A corporation as large as Hallmark recognizes and validates my son and the entire trans community. They felt there was enough of a market to create a card that I could have bought and added to the pun filled Mr T shirt. Had I known it existed I would have bought one.
I think it is wonderful. Next year I will have to up my game in the corny fun gift, but it will have a card included. Why? Cards are normal things that often accompany gifts on special occasions.
To know that I can buy a specific card for this wonderful occasion normalizes something that should be normal. It allows us to celebrate wonderful days in little ways. It may seem like a small thing and I will admit that it is, but I appreciate it.
We need laws that defend transgender people. We need equality. But we also need little things like this. Little things like this normalize what should be normal. In 2017 we see things everyday that we never would have seen a few decades ago.
We now see advertisements and market copy that include multiple ethnicities. We are seeing more same sex couples displayed in everyday ads. This is part of normalizing new constructs and changing the historical social constructs we have limited ourselves to.
The little things matter because the little things are the everyday things. I spent a lifetime ignoring and missing the little things. This is not something I am alone in. Miss enough little things and you will find you missed a lifetime. This is one little thing that I am not missing and I will celebrate.
I pity the fool who misses the little things.