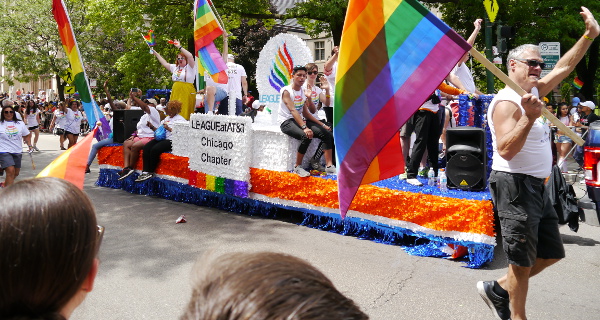 Last Sunday I had a wonderful time with my family at the Pride parade. I'd never been to one before and I couldn't believe how many people were there. I also couldn't believe how many companies had floats. It occurred to me that haters are swiftly running out of places to shop.
People tend to boycott when they do not like the policies of a company. Disney was recently boycotted for a gay character in Beauty and the Beast. Target faced a boycott over their gender inclusive bathroom policy regardless a state's laws on the matter. There was the infamous red cup incident at Starbucks.
When I was a teenager in the church, there were announcements about companies we should boycott. It was the same when I was in Bible College. There were many reasons why a company was deemed bad or satanic. Most of the time, it was because the company was pro LGBTQIA.
So here I am, over 30 years later, watching parade floats go by with my son and my fiancée. Every size and type of business was there representing themselves and the LGBTQIA community. When I say every type, I really mean it. Banking institutions, airlines, major retail, hardware, trade associations, pharmacies, radio, television, restaurants, industrial, manufacturing, and the list goes on.
After the excitement of the parade was over I reflected while eating a burger with my family. When I was a Christian teenager and a young man, we really thought we were fighting "the enemy". I thought we were protecting America and our children from some insidious gay agenda. God, with our help, would either convert the major soda company, or destroy them. After my deconstruction, when I would hear of yet-another-boycott, I would get angry and go on social media to defend products and attack christians. They were a threat to companies that support the rights of people I love.
Here is the reality. Most of these boycotts are cherry picked high profile fights amounting to nothing. Oh, some obscure organization led by some egomaniac will get 15 minutes of fame and a few bucks donated to their group. The reality is, decade after decade the support for equality grows stronger and is more normative than it is not.
Those who would truly boycott on the basis of a company supporting the LGBTQIA community are running out of places to shop, services to use, and products to buy. Even if they were to go to a "Christian" run craft store and buy a Christian bracelet making kit, they may still be buying something "impure". There is a chance the metal in the bracelet was smelted by an LGBTQIA supporting factory by a bi sexual on the pill and delivered to the store by an agnostic truck driver who's company had a float at Pride.
After all the joy and the smiles and the cheers I saw last Sunday, these boycotts no longer scare me or upset me. For over 30 years of my life, they have been a thing, but they have not stopped the march of progress, the Pride march, or free trade from embracing what makes sense.