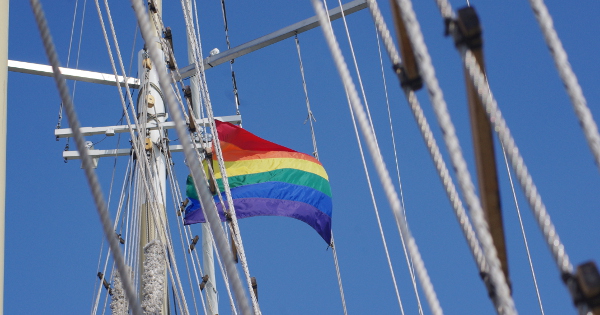 I spend a lot of time here discussing some of the harder stories we have had together as father and son. I sometimes talk about the political bs going on. Then there is religion and the harm it has caused and continues to cause. I have not celebrated enough. Today, I am going to celebrate my son and all the transgender and gender fluid and otherwise gender non conforming people in my life.
Now to be fair, I have written about some of the feel good milestones we have shared. There has been the beauty of transition and transformation. Then there was the time I wrote about being proud of my son for taking action. Finally, there was also the time I wrote about a special day at the zoo. But there is more, so much more. I plan on being intentional writing about that more.
My son is a gift and his coming out as transgender has taught me so much about life. The first lesson I learned is about expectations. When he was born, I had a little girl. And with that were all of these hopes and dreams and expectations of our road together. There would be daddy/daughter dances, prom dresses, wedding dresses, walking down the isle to give the bride away, and many other gender based expectations. Then he came out as a trans male. All those expectations were shattered and I am better for it.
Here is why. In letting go of the idea of a daughter and all the expectations I had contained within that, I had to see my child as he was and is. His warped sense of humor, his artistic nature, his compassion and sense of justice, and so much more. None of that changed. It was always there and it is still there. I had to see my child. Really see the essence of him beyond the binary. In letting go of my expectations seeped in gender, I also let go of my expectations for what I wanted him to become and support who he wants to become.
This becoming is not about his gender. He is not becoming male. He always was that. That is who he is. But now I find myself looking at his yearnings and desires. Not my yearnings for him. He wants to be a scientist. There has been a deep and hard work into getting the grades, the SAT scores, and the paperwork done for the school that he wants to go to to enter the field he wants to enter.
He wants to follow in my footsteps a little and has taken to writing and to photography in his high school journalism team. This makes him a third generation in the field of columns and photography. That is fun and it is his road and we get to share it.
There are the bonus gifts that I never anticipated when he was born. The amazing and unexpected joy of teaching him things my grandfather taught me. How to tie a tie and wear a suit properly. The art of shaving with a good safety razor was joyous. Those little father and son experiences that are a little different and unexpected are so very meaningful.
He's opened my eyes to new worlds of acceptance, understanding, and my own becoming. When I see him or someone else I know being misgendered, I go into conflict mode. He simply offers the correct pronoun and gives the person an opportunity to correct their understanding. It is boundaries with mutual respect. I have new friendships with people in the LGBTQIA world that are so rich and wondrous and beyond my imagination because of him.
My relationship with my fiancee' would not have happened if it were not for him. I would not have been open to the possibilities of dating someone who is LGBTQIA. And this is an amazing person that I love, and am loved by. I am loved in ways I never thought possible. I may have missed out on the most fulfilling and enriching relationships I have ever had if my son had not taught me to celebrate him and the entire community. He opened my mind and my heart.
The transgender community has had an important role in the history of LGBTQIA rights that is often forgotten or not known. Transgender woman Marsha P Johnson was the "Rosa Parks" of the gay rights movement. Without her, the Stonewall Uprising may very well not have had the impact that it does now. She gave her life and lived her life paving the way for so many others to have what they have today.
Another parent of a trans teen recently said to me and some other parents something that I love. "Letting go of expectation allowed me to live with intention."
My intention is to do more than affirm my son, but to celebrate him and his being transgender. I have often said it is not his determining characteristic, but it is a part of who he is. It is a beautiful part of who he is. That needs to be celebrated, because as you can see, my son is a gift. All of us who are supportive parents of our transgender children know this. Our children are gifts and we celebrate them.
Brief Explanation On The Flag Choice
Some may wonder why I used the PRIDE flag as opposed to the Transgender flag. Well, this flag was on the Pirate Ship Windy at Chicago's Navy Pier. Great family run operation and they hoist the colors with…wait for it…pride! Anyway, my fiancee and I had a wonderful time sailing with them and I appreciated their hoisting the PRIDE flag next to the Jolly Roger. It is a family operation and we very much enjoyed sailing with them and swapping tales of lore and of love.