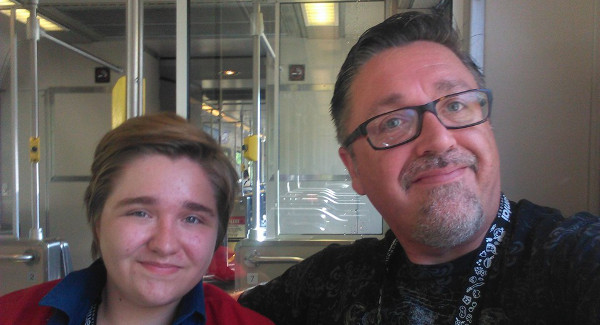 When my son first came out one of my greatest fears drove one of my greatest mistakes. I knew the assault rates, the suicide rates, and how society at large treats transgender people. I did not want it to be true. Based on what I knew I wondered how he could be sure, especially at such a young age. There was something else beneath the surface. The dirty secret was I did not want it to be true. Not coming to grips with that had me putting his life in danger with the most critical statistics of all. This is the difference between life and death. That difference is a supportive parent.
The suicide and self harm risk of a transgender youth reduces by well over 80% when they have strong family support at home. Conversely, the lack of support will exponentially increase that risk and lead to some other risk factors. Some of those other risk factors will be matters like internalized transphobia. If we doubt it and do not want it to be true, they will wish it were not true. They may listen to all the news and the religious leaders statements on them and begin to internalize that loathing.
I have personally seen my son go from depression, thoughts of harm, self isolation, and failing grades transform into joy, dreams of the future, a strong social core of good friends, and an honor roll AP student. All the while he has been becoming and blossoming into who he is and having the freedom to grow into his identity knowing that he is loved and valued. The other parents I interact with experience the same sense of becoming.
Yeah, there are the stressors in this life. All the things on the blog I have spoken of that relate to discrimination, ignorance, laws that do not always support our kids, and other things. But as it stands, my son and others who have that support at home have the ability to go through life with the proper names, pronouns, medication, support and love that changes the game. Are there transgender people experiencing homelessness? Yes. But there are also executives, performers, politicians, and parents that are transgender.
In my adult transgender and gender non conforming friends. I know three that are parents. I know two that are performers. Many others are in serious relationships and have careers. Many of them face discrimination and stupid comments from people who do everything from misgender them to try to restrict their rights, but because of their level of self confidence and their support group, they hold their heads high, love themselves, and keep moving forward.
Some of my adult friends had that support at home and others had to bravely create their own support system outside of the home. The ones that do that often tell me and other supportive parents I network with that they wish they had parents like us. Sometimes that makes me feel great and other times it bothers me.
Here is why it bothers me. I am a member of various parental support groups. We speak so often that being around parents who accept and support and affirm their children is normal. I forget that we might actually be the minority. That just makes no sense to me. The supportive parents should not be heroes, this is what a parent is supposed to do.
When my son first came out I did not handle it well. I speak about it in the very first article I wrote for this column. It ultimately led to him locked in a bedroom crying thinking that his own father did not support and love him. In the meantime I was pacing on a balcony chain smoking and processing my own fear and anger. It took me about 15 minutes to work out of that dark space and it took another 3 months for me to educate myself and get plugged into support groups and network with other parents.
It was the difference between darkness and light. We who support our children are not heroes. We just answered some simple questions with obvious answers.
Is the life of my child worth looking past my own assumptions and opinions about the world and doing research?
Is it more important for me to cling to my expectation or my child to be safe, strong and happy?
Could I stop asking, what if it is not real and start asking, what if it is real? How can I support and love my child well?
My son will go to college. He will likely find his way into a career. There may be marriage. Children could also come into the mix. I did not raise him to be a gender. I raised him and am raising him to be an autonomous and healthy adult that will make positive contributions to the world. Nothing has changed in that regard. To be honest, his gender did not change either. All that changed was my understanding of gender was broadened and my unfair expectations on him were released. That little change in me was the difference between life and death for him.