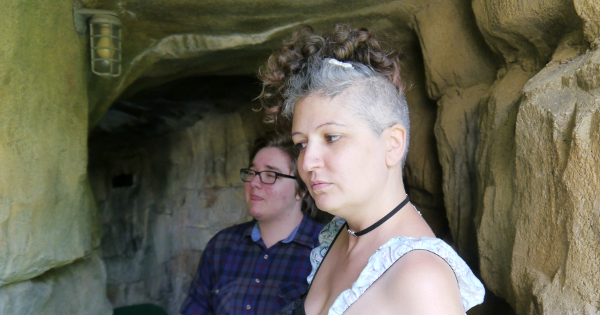 Trump's Transgender military ban has faced a second federal challenge. For the second time, a federal judge has said the ban needs to stop. I'm thankful that this decision has been made…again. There are other things I am grateful for too. I'll get to them in a little bit.
Anyone who's read this column for awhile knows that there have been some hardships my son has faced since coming out. There are some experiences that he has had that are almost universal for transgender people and other things that are unique to him. This last year, however, America has been a house of horrors for my son since Trump has been elected. But the #resist battlecry has been heartening to see in effect. So, in no particular order, some of the stuff I am thankful for as a TransParent.
Trump's Failure
Twice now, the president of the United States has been blocked from his transgender military ban. The people that I know that are conservative Trump supporters will never understand that this is not conservative vs liberal. This last election has been traumatic and threatening for many LGBTQIA people. Trump made it clear within weeks of his presidency that transgender people were on his radar by attacking children with the help of Betsy DeVos. The only reason my child is not affected by this is because of the laws of the State of Illinois.
Not only do the laws in the state of Illinois protect my son from Trump's reversal of protections and rights for transgender minors, but we've had new laws. In 2017, we have seen three new laws come into effect in Illinois. They not only banned panic defense for murder and built visibility on state boards for transgender people, but they have also made it easier (and possible) to change birth certificates. What I love about the work of these bills is that countless families have met with state legislators to tell them why these laws matter.
This grassroots effort was so effective that these bills had overwhelming bi-partisan support that was signed into law by a Republican governor. Conservative Evangelical James Dobson founded a horrible group called Alliance Defending Freedom. I believe they named the group that on opposite day. They sent in their usual suspects to try to block these laws with the usual set of lies and talking points. Even most of the GOP state reps did not believe them or give them traction. They lost. My son and countless other Illinois residents won.
Danica Roem
I recently wrote about Danica Roem's political victory. Though I do love that she beat someone who once tried to initiate one of those stupid bathroom bans, I love even more her character. She did not run her campaign what she is against. She ran her campaign on what she is for. She wanted a highway fixed first and foremost. In the wake of her victory, she continues to show herself to be smart and gracious. Also, I love that she is metal af.
Evangelicals Showing Their True Colors
I used to be a Christian and I was a minister. When I started that road at the tender age of 15, I was an evangelical. They speak about being for freedom and religious liberty. They speak about the bible and when they say they want certain laws in this land, they cite reason and then masterfully undermine their reasons. We have seen in Alabama that they do not care about the safety of underage girls from predatory men, they just do not want transgender people to use the washroom. Every new document and practically every tweet from Graham shows they have abandoned rational thought and their current golden calf is an icon of Trump. He is their god now and abuse of power is their worship. This is clear now and I am grateful that there are no more disguises or pretenses. We know our enemy.
My Guest Bloggers
This year I have gotten to feature Transgender voices that deserve to be heard. Each entry has been moving and I have gotten to know them a little better. I hope to continue highlighting their messages by handing them my platform.
The Readers of TransParent Expedition
Some of you have become friends. Some of you have supported me. Some challenged me. I will never be as popular as many of the other Patheos writers with the content I write and how I present that. I know that. I also know which blogs have garnered me the most hits. The dark directions I would have to go is not worth the success.
Other TransParents and Programs For Us
Almost every day I interact with other parents of transgender children. We celebrate our children together. We help each other in legal matters, advice, and love. We mourn together when a family suffers a loss. There are support groups some of us belong to. Meeting after meeting, the program coordinators bring special guests for our children and for us. These guests inform us, challenge us and inspire us. The other parents, they do the same for me.
My Family
My son is a gift. My fiancee' is a gift. They have both taught me so much about life and expanded my horizons. When I was a minister, I thought myself an ally who understood the world. They have both taught me that gender and sexuality is far more broad and beautiful that I could have ever imagined. They have supported me and kept me sane during hard chapters in my personal life this year. They are also the reason I do pretty much everything I do. I love them both with everything I am and all that I hope to be. Often, I feel undeserving of their love, but I think they see me in ways that I do not see myself. So I have to trust their judgement and their love and be ever grateful for it.
I often speak of my trans son and my fluid fi. But that is not who they are. They are my child and the love of my life. Honestly, in this moment, there is so much more I want to say about them. I am rendered speechless by love.
Your Support
If you are still reading this, I am thankful for your financial support. Because of my ministry past, I have been reticent to ask for financial support. The pragmatic realities have left me with little choice but to trust the community to support this work and the other work I do. I am learning that I set my bar too high on the Patreon support levels and the offerings too low. I will be adjusting that over the holiday weekend. In the meantime, if you do want to look at it, you can see my Patreon Page here. If you would like to make a one time gift to aid with immediate needs for me and my family as I do this work, you can visit my paypal here.
Starving artists don't actually create much meaningful art and columns. Too much energy is expended on empty stomachs and debilitating worries.
I am asking you to invest in me, invest in the time to create, the necessary marketing, equipment, fees, and resources.
Together, we can make that dream live and not only keep this message going, but expand it.
Thank you for your partnership.
Asking for this level of support is humbling and has always been difficult for me. Even as a minister I was able to ask for money for 100 different causes, but not for myself. That said, there is one more reason why expansion is so important. Over the last 2 months my son and I have encountered 2 families who have had children yearning to come out and be themselves and we are encountering harmful parental resistance. It has shown me that we need to step out of mere story telling and into tangible action to aid transgender teens into raising more trans-parents.
Thank you.