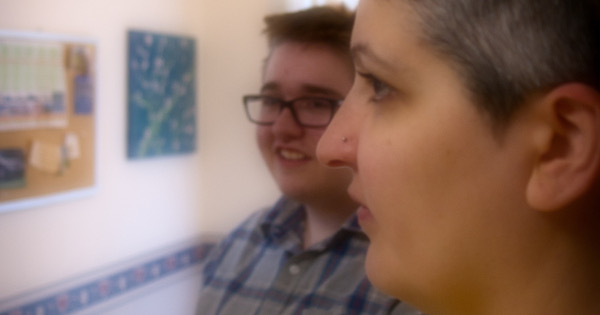 When my ex wife was pregnant with our son, I read "What to Expect When Your Expecting". Shortly after my son was born "What to Expect the First Year" was an invaluable resource. TransParenting 101 will be that guide if your child comes out. This is going to a basics of what to do and what to expect when your child comes out transgender.
Over the last month and a half I have had 4 families who have either told me or my son that someone in their family has come out transgender or gender non conforming. Some of those stories are off to a good start. Some are not. Me, my son, my son's friends, and all my treasured TransParents know that rejecting your child's gender identity or asking them to prove it in some manner can have deadly consequences at worst and at the very least is harmful to not only your child, but your relationship with your child.
I learned swiftly that the best way to drive up readership is to get people angry about something. This will not elicit that kind of impassioned response. I hope that my core audience and that other trans-parents will keep reading, commenting, and sharing so the people that need to read resources like this will find it.
As always, if you are trans or gender non conforming, I need your feedback if I get something wrong. I know how frustrating a bad ally can be. This isn't about me and my ego, this is about the welfare of children who need the love and support of their parents.
Your Child Came Out: First Steps
Chances are, your child has come out before you have had an opportunity to read anything like this or study resources. You have likely already had your initial reaction. I wrote about my initial reaction and it was not my proudest moment as a parent. Initial reactions are fascinating when I talk to other parents in support groups. Some parents are very in tune and suspected before their child came out. They paved the way, did the research, and when their child did come out, they were ready and informed the child that they knew or suspected for some time. Many of us had no clue.
So now that your child has come out, before we get into resources and the bigger picture, let's talk about the very first step. Well being. The well being of your child, the well being of your relationship with your child, and your well being.
The Well Being of Your Child
Your child is telling you that they are transgender or gender non conforming. They are not telling you that they have cancer or herpes or have multiple personalities. In other words, this is not a medical condition, a disease, or a mental illness. There is nothing wrong with your child and your child is not abnormal. Chances are, you are not a psychologist or a physician or a psychic. It is not for you to decide what they are and are not (even if you are a psychologist, physician or psychic). Truth is, as you start this road, there may be changes in how they position their gender identity or their sexuality. This is not because they cannot make up their mind, it is because the gender spectrum is more vast that we could have imagined when I was in high school.
What your child needs right now is not diagnosis. They need your love. They need your acceptance of them. When I say need, I mean it. There are various studies on this, but the rate of transgender youth suicide attempts is staggering. Here is the great news about the alarming statistic. Many of those findings also show that there is a less than 5% chance of suicidal thoughts when the child has a supportive parent at home. This simple act of unconditional love is the difference between an astronomically alarming chance of suicidal thoughts to something well below the national average for all youth.
Some people have accused me of being alarmist. No. This is literally the difference between life and death. Every day that goes by without your unconditional love and acceptance, the clock is ticking and harm is being done. I know that is blunt, but this is about the well being of your child.
When they were babies we knew their cries. There were some cries that were merely fussy or they were hungry or they had a messy diaper. Normal stuff. Then there was that cry. The one that had us literally drop everything to go across the house to wherever they were, see what the matter was, and hold them and assure them that all was well. Mommy or daddy is here.
This is that cry. They need you, your love, and your acceptance. Not your bias. The act of telling you was brave regardless their age. I know some trans children in the grade school level and some who come out as upperclassmen in high school. Regardless the age, this was a brave thing and a matter of trust. Please don't betray that trust.
The Well Being Of Your Relationship
We all know that parenting comes with mistakes. Many of us are terrified of screwing up our kids. We are also afraid of them growing up and not wanting to have anything to do with us. An open and healthy relationship is crucial in this time. It is possible you may have said something in your initial reaction that makes you wince. It is also possible that you may have said some things about transgender or LGBTQIA people in the past that you now wish you had not said.
We are not here to raise a gender. We have not raised a boy or a girl. I feel we are in the process of raising a human being that will hopefully be an autonomous and healthy person that will make a difference in this world and have character. Character includes owning mistakes and changing behaviors. This is what we teach them when we discipline them. You made a mistake, there is a consequence, and there is an opportunity to change and do better. We can teach this from example.
I have no problem whatsoever telling my son that I was wrong about something. After that I am intentional in telling him what that wrong idea's consequence has been and how I intend to change that going down the road. They already know we are not perfect. Owning your action if you said something hurtful or ignorant in the initial reaction is all right.
When you first go down this road, you do not always know the right terms and even when you do learn them, you will make mistakes.
You also have biases. Put what you think you know about gender and sexuality on pause and accept, for the sake of your child and your relationship with your child, that you may not know as much as you think you know. The things you have heard in a church puplit, on the news, or in your suburban mom's group or man-cave gatherings may not be correct.
Additionally, I often find parents are accepting of things until it is their kid. And it makes me wonder how accepting you really are. If you say you accept my trans son and my fluid fiancee', but when it is your offspring, the rules change, I'm not so sure you accept my family.
Principles when they are intellectual ideas are different than when they enter our home. Face that, own it, and know that in this time the best and most amazing thing you can do is keep the communication and relationship channels with your child open.
The Well Being of You
Many parents are going to be anxious, scared, and face a sense of loss. These feelings are valid in the initial stages and you will need self care. Shock, situational depression, anxiety, and Adjustment Disorder are real things.
My recommendation is simple. If you are not already seeing a therapist, find one. If you are a Christian, please do not seek out a Christian Counselor. This is not the time for confirmation bias, this is the time to deal with your feelings.
I thought, as many parents do, that I was losing a daughter. I never lost anything. The only loss I mourned was the loss of expectation. Letting go of that has made me a better person.
The other thing you need to do is to connect with other parents of transgender and gender nonconforming kids. They are out there and they are a lifeline. Other parents of trans teens have helped me and been there for me in ways that make me forever beholden to them and grateful for them. They may become your best friends with a deeper understanding that you can possibly imagine.
Link and Book and Video Resource
Each 101 entry will have one helpful link, one book recommendation and one movie or online video resource.
TransYouth Family Allies: http://www.imatyfa.org/parents.html This is as good a place as any to start your journey. It is a resource I wish I knew about when my son first came out.
Raising my Rainbow: Adventures in Raising a Fabulous, Gender Creative Son by Lori Duron. There are so many amazing books. The reason why I chose this one is the mom makes it personal very well and that makes it relatable to us as parents. She has a child is more in the spectrum than a trans boy or trans girl may be and that is on purpose. I think that her explanation of the spectrum does a fabulous job of showcasing how broad gender is. It is broad and diverse and so very beautiful. She gets that and captures it so well.
Finally the video. My son exposed me to Skyler's page. I thought about going with Ted Talks from parents, but this is so very honest and it gets us geared to doing something we all need to do. Listen to a child and someone who is trans. I can think of no better way for this ally to close. I leave you with the words of someone who is transgender.