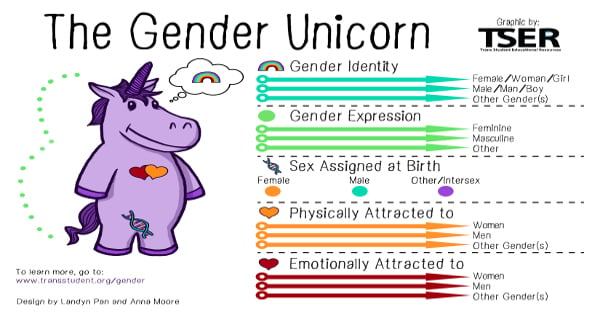 I used to be an adjunct professor. In the 2 years I did that, it was rare I received a homework assignment that delighted me. Parents of transgender kids can write beauty and wonder. I've received homework assignments today that not only delighted me, but moved me. In the last column regarding letters TransParents may have to write, I asked other parents to share the letters they wrote.
Here are two homework assignments I would like to share.
Laurie's Homework Letter
The first letter is from a mom I have personally known for over a year and a half. Her name is Laurie. There is much I can say about her as I would any of my personal friends. On the lighter side, for over a year and a half she has been one of the other parents who has walked this road with me, been patient with my verbose nature, and especially helped me stay sane in the early going with perspective and insight. For context when you read the letter, her husband recently passed. Here is her introduction and the letter.
Laurie's Introduction:
Doing my homework! Here is the letter I sent to my family before our family vacation in 2016.
My siblings knew already, but not Ella's cousins. With 5 kids I had to use the deadname in the letter to be clear:
Laurie's Letter:
"Greetings to all the cousins and family,

I want to share this cute family photo from Easter.
Right away you will notice big changes in our family.

We all miss Tom/Dad very much.
We are slowly working on new routines so we can move forward without him. He will always be in our hearts, if not in our photos.

You knew and loved her as <deadname>, now you can know and love her as Ella!
Ella is transgender and has transitioned at school, at home and at church, and all is going well.
The most important way to support Ella is to use her preferred name and pronouns. This is true even when referring to her childhood. It takes some practice but do your best.
Ella got accepted to a Chinese course at University of Chicago for the summer! She will be able to join us at Deep Creek Lake for the long holiday weekend.

We are looking forward to seeing everyone in July!
Matt we will miss you. (Tom always wanted to go to Burning Man or to Lakes of Fire!)
Samantha's Homework Letter
Samantha is a new-ish voice in my life. It has recently come to my attention that I will have an opportunity to meet her in the very near future. Our interactions are online but we have real life mutual friends and associates. I cannot tell you very much about her, but I do know that almost every time she speaks, she is a force of positive beauty and I appreciate her contributions to the conversations we parents of trans kiddos have. Here is her introduction and letter.
Samantha's Introduction:
My daughter wanted the world to know and we did our message via facebook. She came out a month before her bday. We came out as a family on her bday. We included gender unicorn in post and offered other resources. She read and approved before I posted.
Samantha's Letter:
15 years ago today my beautiful baby was born. I without fail, every year post the story on Facebook of how this child has forever changed my life for the better. This year is no different!

On July 1st 2017 my child revealed with conviction that he no longer felt comfortable being male and that he in fact was ready to be his true self as he now identified as she. My child cried and I held her tight and explained I would always love and accept her. I without question accepted her, not accepting just wasn't an option as SHE is my world.

Today I want to show her how proud I am of her! In a world that lately seems to be becoming less accepting I want her to know that people family, friends do love and care for her. I have one of the most beautiful, kind, caring, accepting, smart, artistic and strong kids in the world.

If you will please join me in wishing my beautiful daugther Justine a Happy Birthday!!!

I ask out of respect for us both that you dont respond to this post negatively. She is tagged on this post and its her day!!!

If you don't like seeing posts about our life on your timeline or disagree with me supporting my daugther simply unfollow or unfriend me.

If you want to understand more please feel free to private message me. I am more than happy to share resources and tell our story. (I've added some links in the comments)

Justine I am and forever will be proud to be your mama bear. Happy Birthday!!!
Closing Thoughts
The resources in today's column are the letters above. In honor of Samantha's letter, I used the Gender Unicorn Graphic. It is a resource of the Trans Student Educational Resources. It is a wonderful site worth looking into.
These are the hearts of parents who celebrate their children. Celebrate their love for their children as I do. If parents were to be graded, any parent who loves, accepts, and affirms their child passes with honors.