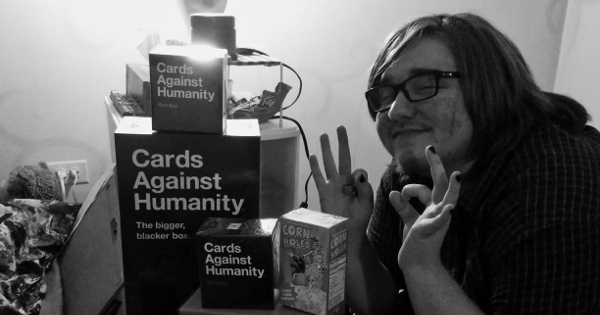 Cards Against Humanity saved the holidays for me and my family. I sent them a letter of appreciation and they returned that gesture with more than I ever could have imagined. The following is what happens when companies believe that acceptance and affirmation matters.
Less than a week before Christmas I came across a news story about Cards Against Humanity that amused me. When I drove a taxi after I quit ministry, I primarily drove my taxi in Joliet. I was also broke. Come to think of it, I am still broke.
Anyway. Joliet has an indie league team called the Joliet Slammers. I have taken my son to a few games there over the years. I am a White Sox fan, but such as that is well out of my price range, so I switched my loyalties to that which I could afford.
As father and son we have enjoyed quite a few games with the Slammers. We have had a lot of fun. We even saw Mini-Kiss perform there once. They are a Kiss cover band consisting of little people. Joliet Slammers have been part of our post coming out and post Christian life.
As the final part of the Cards Against Humanity Saves America campaign, the people at Cards released Cards Against Humanity Saves Baseball. In the campaign they had bought the naming rights to the stadium the Slammers play to "The Cards Against Humanity Baseball Place." This amused me.
Until a few days ago I have never played "Cards Against Humanity", but it has been a special part of the lives of my son and several of his trans and gender non conforming peers. Once a month a group of parents come to a center with our kids. We all have pizza together. Then the adults go into one room and the kids in the other. We parents talk about our challenges and have guest speakers speak to us about legal matters, medical things, psychological stuff and other happy topics. While we are doing this hard work, our kids are in a different room. They are often eating pizza, laughing, and playing Cards Against Humanity. This matters. While laughing they are bonding. They interact online and even have their own discord server.
One time, a trans kid in a group chat was expressing suicidal thoughts. My son and another teen brought parents into the loop. We were able to reach out to the parent of the child who ensured her child got the help needed for that rough emotional patch. That is just one example of a community of kids who's foundation of love was poured in laughter and irreverent delight. I thought Cards Against Humanity should know they help a bunch of kids they never met.
I sent them an email telling them what I just told you about how much my son and his friends like the game and why it matters. Honestly, I did not think I would hear anything back from them. But a few days later, I got the following email:
Wow, Pat. Thanks for sharing this with us and for your kind words. It really brightened my day sorting through the angry "my game won't make it by Christmas" emails and I shared it with the rest of my team to keep in mind what's important; you're exactly the kind of fan we want in our corner: an empathetic person who understands how powerful laughing can be. Thank you.

I know you didn't send this email to get free sh*t, but I'd really to hook you, your fiancée, and your son up with our dumb game. Can you confirm your address following this format?

Name:

Address Line 1:

Address Line 2:

City:

State / Region:

Postal Code:

Country:

Phone Number:
I was expecting to get a small box of their game. Maybe there would even be an expansion pack. I had no idea what was coming to me. On December 30th my fiancee' and son and I went on an adventure making glass jewelry at a gallery. It was a Christmas present to us as a family. We came home and there was a huge box sitting in the lobby of my building. I looked at it and it had my name on it.
I sent Jackie a thank you message along with the information. We had a few polite and nice exchanges. I sent her pics of my family and told her little stories about my son and his warped sense of humor and hugely popular random blog about possums. It was a delight.
We take it upstairs and opened it. It was from Cards Against Humanity. The invoice listed all they had sent us without prices and had a message inside. "From our famo to yours <3 AND SHARE THIS SH*T WITH YOUR FRIENDOS, DAVE!" There is a lot to share. Red box, blue box, green box, bigger blacker box, back to school bundle and more!
So how did Cards Against Humanity Save the Holidays for my family? Money has been tight this year. Incredibly tight. In some ways, it is survival mode and it sometimes affects my self worth. When I was a minister I had a 4 bedroom house on a corner lot, had everything, and appreciated nothing. Now I have nothing and appreciate everything. All of that to say, I did not have much money to buy my son or my fiancee' much of anything. I know they love me and I love them and gifts are not what the holidays are about. But when you see everyone else on social media with all their trees and gifts and presents, it hurts a little. Cards Against Humanity gave us all a wondrous gift that we get to do together, as a family. I am grateful.
Cards Against Humanity Saved the Holidays.
The Mini TransParenting 101 Lesson
Laughter and delight and play can lead to unexpected wonder. Make sure your kids have that opportunity. Make sure to thank the ones who make that possible.
Mini Homework
Go play with your kid. No matter how old or young they are.