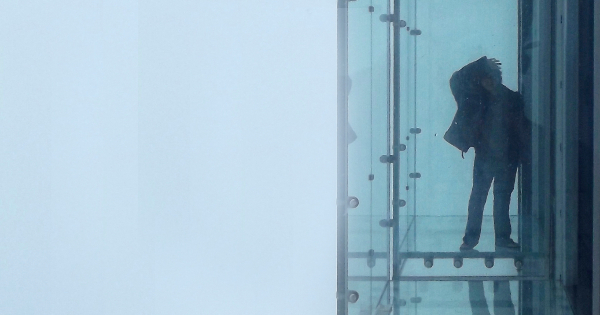 Last week, I posted a column about the speculation of suicide or accidental overdose in the wake of Dolores O'Riordan's death. Dolores O'Riordan was the lead singer of the Irish band, The Cranberries. I used speculation and her history with depression to speak about the realities of suicide and depression. This went on to become the most read, shared and popular post out of anything I have ever written on Patheos. I am grateful for the readers, the shares, the kind words, and the stories. The stories connect us to one another. I want to offer thanks to some of you for all of this.
Thanks to blogger, and mental health advocate, JJ Jerome. He said kind things about the article on twitter. I found out that he puts himself out there in a profound level of vulnerability. His goal? Awareness and advocacy. To receive accolade from someone who does so much in the arena means a lot to me. Go visit his blog. The link is: https://jjremone.com/
Thanks to HeadQuarters Counseling Center in Lawrence, Kansas. This counseling center does many things, but they are an integral part of the National Suicide Prevention Lifeline. They do amazing work and provide wonderful resources. For a counseling center with professional health care workers to see value in my words as a tool to place on their social media? I am humbled. In discussion with them, I also gained a new respect for the suicide hotlines that I was dismissive of in the initial article. This is a great group of people who genuinely care and have a lot to offer. If you want to volunteer or donate, visit them on the web. They are at: http://www.headquarterscounselingcenter.org/
Thanks to all the storytellers who reached out to me. I have been honored to have received the trust of many stories. Stories of loss of spouses, children and siblings. Stories of personal tales of survival. Each and every one of these stories came from beautiful people who were honest and vulnerable. Tey were given to me as a gift from people who connected with me and found truth in my words. I am beholden to each and every one of you.
Thanks to my friends, my fiancee' and my son. Many aspects of putting myself out there in this article were triggering and painful. There was a storm in me through the midst of this. You listened, you encouraged me, and you loved me.
Finally, thanks to everyone who shared and read it. We all have busy lives and there is so much out there on the internet. To have taken the time to read what I wrote meant a lot to me. To have had this be the most popular post I have written on Patheos as opposed to something divisive and argumentative means a lot to me personally.
The Darker Side and the Lament
As I touched on earlier, there was a darker side to this. Not only was it triggering, but there were a few people who were critical. I am used to that. But it hurt more. To be mean spirited to people suffering trauma and being so vulnerable bothered me.
Also, there is the purpose of TransParent Expedition. This is my transparent journey away from religion and my journey with my son as a trans parent. The goal is to use that story in the hopes others will relate, learn, and accept. Accept themselves, accept others, and embrace the diversity of all.
That said, I also like speaking about deep matters in other arenas of life. It seems others relate to that journey as well. But I do not want to distract from this mission and vision I have for Transparent Expedition. I have found an avenue to accomplish that.
The Opportunity
I have a
Patreon Page
that I do not really invest in, but I have been paying attention to how others use it. I have mainly been using it as a tool to get supplemental income to offset my time into doing my writing and my art. For Patheos I write 3 blogs a week. When all is said and done, every post takes about 3 hours to write and edit. Then there is another 2 hours minimal spent on promoting it and getting the word out. 5 hours per blog, 3 blogs a week. Add to that my monthly column in
Aquarius Magazine
and about two art shows a month with no guarantee of breaking even, and that is a lot to do for little to no financial gain while trying to eek out a living.
I have decided to add two new levels with new offerings to my budding community so I can do what I want to do and we can better connect. I am adding to my Patreon a $5 monthly "Friends" level and a $3 a month "Digital Only" level.
What they, and my existing donors will receive, starting in February, is three "members only" articles every month. The topics will range. They will go deeper and more vulnerable, but have the safety of mutual investment where we can be honest in a semi private environment. Pragmatically, it will also offset the costs for the time and care I put into this. That said, I want to make sure that anyone who gives me their hard earned money and time gets something they value.
The main difference between the $3 and the $5 is that the $5 level gets you an 8×10 or 8×8 print ($50 value) of one of my limited edition works. But this is not an infomercial and I do not want this post to become that.
What I desire is an opportunity to connect on a deeper level with those who wish to do that. If you do not, I will continue this work here three times a week.
It matters and even though the posts about Trans Parenting 101 and guest posts by people in the community only garner a few hundred posts as opposed to the thousands this one received, it is an important topic and one that is dear to me. I am a parent and my son breathes life into me and I want that story, and the stories of other children and parents in the trans community to be understood and celebrated in the secular community.
If the Patreon connection has meaning to you and you wish to be a part of it, please go to my page at: https://www.patreon.com/patlgreen and become a member. If you wish to make a one time donation, visit: https://paypal.me/patlgreen
Thank you again for showing me that I am not alone in the struggles of the dark.