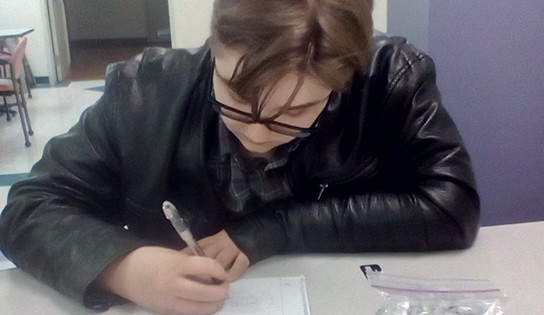 I'm about to share with you the story of Jessi, her trans teen Owen, and their letter. In my TransParenting 101 lessons I wrote one about "The Letter" many families have to write. For fun I also had a homework assignment in which some parents shared their letters. What I didn't know was that other parents like Jessi were reading lesson 3 and applying it.
The point of the TransParenting 101 lessons is to give the basics of the heart as a resource. To read what I am about to share means more to me than I can begin to express for their family.
I know Jessi from an internet group that has nothing to do with being a parent of a trans teen. She was talking about how her son was going to wear a dress and present as his deadname when the grandparents were coming to visit. Someone else in our group alerted me to it and by the time I got to the thread someone had already suggested my series. I made myself available to her and we had some conversations about the lesson and the letter.
This is what Jessi shared in our group and she has given me permission to share it here in the hopes that it helps other parents and teens.
So I called an emergency family meeting to discuss how to proceed in regards to my in laws not knowing about our trans son, and our impending visit with them. My husband and I agreed that to keep them in the dark was far too risky to Owen's health and safety.

So, we told him that we felt strongly that it was necessary to tell his grandparents as soon as possible, before our visit. We explained to him that, though he is in charge of his journey, he's still in need of parents to guide him and protect him, and this is one of those times when we must! Owen was nervous, but he definitely understood that it needed to be done and why.

All of us agreed that my husband and I should deliver the news in a letter, and give them the opportunity to talk with us with no kids present. So my husband called them and arranged for us to go over to the the condo they are staying in after he finished his work day…and I got to work on the letter.

It took me nearly 3 hours to compose, and there were literal sweat and tears…no blood, but LOTS of shaking! I told Pat about our plan and I referred to his guidelines for "the letter" he published in his Transparenting 101 blog series. (Thank you for being there in so many ways, Pat!!) After I finished writing, I asked for and received feedback from Pat, as well as another (local) friend and ally. Then Andrew (my husband) and I cleaned up and nervously headed over to deliver the news.

We were both stupid anxious on the drive over, but we focused on the incredible scenery, the gorgeous sunset, and how much we love our children…which truly helped!

Once we arrived and greetings were exchanged, we had a few very brief moments of small talk before they pretty much demanded that the giant pachyderm in the condo be revealed! My mother in law decided she wanted to read the letter out loud and they both wanted Andrew and I to stay, though we offered to let them digest the news in private. I don't know if I can really describe how it felt, sitting there next to her as she read:

"Dear Mimi and Papa,

We've got news to share! Our wonderful, funny, sweet spirited, second born child is not a girl. He is a boy, and his name is Owen Sky. He is transgender which means he doesn't identify with his sex at birth. Sex is not the same as gender. Owen couldn't tell us what he knows about his gender for more than 15 years, but he finally found the words to express what has been true all along. And, he is thriving! We are so happy for him and proud of him!

In addition to us and his sisters, Owen has amazing support from personal friends, as well as some wonderful family friends we've made since we moved. Our family has joined congregational life with the Unitarian Universalist Fellowship of Central Oregon. At UUFCO we've found a wealth of kind and loving people, as well as professional resources which are invaluable to us as we help Owen move forward as his authentic self.

We understand this is a lot to take in. We welcome any initial questions you may have and we've included some resources in the card for you to check out.

Even though you may not agree with us, this is all good news! We would never ask you to change what you believe. We do ask that you honor your love for your grandchild by calling him Owen and referring to him with male pronouns he / him. If this isn't something you can do, then as much as it would absolutely break our hearts, our family won't be able to visit with you. We will stand by our son, no matter what, and we hope that you will, too.

With all our love,

Jessi and Andrew"

At first, she was audibly attempting to suppress a sarcastic tone, but her voice softened and then she sounded like she might cry. She couldn't hide a look of incredulous, confused horror on her face..and my father in law looked like his hand would be cemented to his forehead, which was contorted along with his face. Somehow Andrew and I made it through to the closing of the letter with a perfectly calm exterior. I honestly began to believe my fears of a worst case scenario were coming true.

But then, they both started asking questions…actual, honest f**king questions!!! And even though there was definitely some tension and a bit of awkward preaching from my father in law, they both expressed their love for our son and their intent to acknowledge him as such!

One of the hardest parts of the night was actually very funny…my father in law kept repeatedly pointing out that we have had more than 2 months to get used to this, and he'd only had 10 minutes..then 30 minutes..then an hour and so on…and he was convinced that our ultimatum involved them being cut out of our lives if they even accidentally used his deadname or female pronouns. We were finally able to help him understand that we only meant that ultimatum in the event they refused to acknowledge him as trans, and that we'd only JUST finally stopped tripping over names and pronouns so much. We suggested consciously adopting neutral language if that felt easier at first. They are planning to try that!

After about an hour and a half, we confirmed our plans for this evening with them, had big, loving hugs and smiles all around, and we went home and had a wonderful relaxing evening with our amazing children! And now I'm going to bake cookie bars to take with us tonight…and holy f**king god*amn sh*t, I feel so RELIEVED and grateful!!!
I am relieved and grateful as well. Thank you, Jessi!
Liked This Lesson? Become a Patreon
Thank you to my Patreons who make this blog possible. If you want to see this work continue, please join them and get exclusive content.
Patreon Page: https://www.patreon.com/patlgreen
Paypal: paypal.me/patlgreen