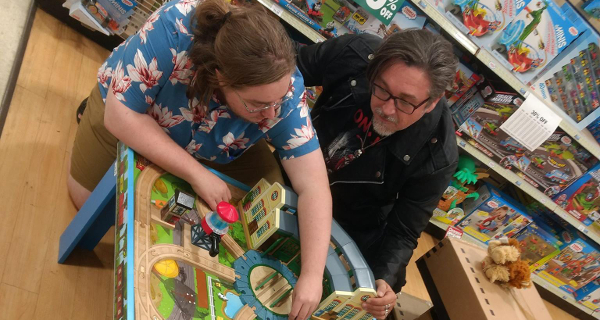 Monday is my birthday. As a child my favorite part of that was my grandfather would take me out to Toys-R-Us and allow me to pick up one item of my choosing. The presents were exciting and fun, but there was something more important about having my grandfather's presence. I have tried to pass that tradition to my son.
When my dad left, my grandfather tried to fill that role as best he could. He knew my dad would not pay support and he would make no investment in seeing me when he left the state. There was a void and he filled it with love.
I tend to be very private on my birthday. All I want is one present of my choosing and the presence of love. That is it. In the course of my life people have created experiences for me out of love and good intention. Showered with presents and fancy trips in a city and all these glorious things. I have never felt comfortable with all that.
When my son was young, parents started doing these huge and expensive events. It felt like they were trying to outdo one another. Entire sections of bowling alleys rented out with party packages, theme parks, rock climbing walls, etc. I could see my son feeling lost at these parties so I created something that he would enjoy.
I would fire up the grill, set up water balloons, simple games, treasure hunts, and invite my kid's friends to the backyard. They always had a blast and every once in awhile a parent would be offended by the fact their kid had a great time for a fraction of the cost. I secretly enjoyed that more than I should have.
After all that was over, I would make time for my child. We would go have a meal at a local family restaurant and then I would ask him what HE wanted. And we would get that one thing while spending time together. In that time together, I would do like my grandfather did for me. I would speak to him as a peer, and what he had to say mattered. What was said at 3 was vastly different than it was when he was 8 or 10 or 16. But all stages were listened to with the same import Mister Rogers would give a child when they were speaking.
It was always that time together that set a stage for our relationship now and who he is. I have seen him receive laptops, game systems, headphones and other things as he has gotten older, but I will take him out for a meal and we will pick up something simple. Sometimes it would be used.
There is something about the presence and the present that should clue us in on who the person is if we are present. Year after year he would receive Barbie stuff and American Girl and Disney Princess toys. But his one self bought present when he was younger was Sonic the Hedgehog merchandise, Thomas the Tank Engine, Hot Wheels, Playstation. I am in no way saying these are toys that are not to be played with by girls. Toys are toys.
Right in front of me, however, was a clue that he was not at all interested in the gender normative gifts we were giving him and more interested in the gender normative toys and games he saw little boys playing with.
How am I realizing all of this now? Because as people are asking me for my wishes for my birthday, all I want to say is, "Denny's or the hot dog joint with the people who I love most is fine. And I also saw this used camera on ebay and I have kinda wanted it since 2012."
So I did some analysis last night. Why the camera? I have a cell phone, I have a little point and shoot and I have my DSLR that is old in the tooth, but I still create art with. Why this one thing? Why this used camera on ebay?
Then it hit me. Because it is an insanely fun camera. Though it is not a serious camera, it is a camera for those who are serious about photography. This is passtion I have had since I was 13 when I finally reconnected with my dad and he gave me my first Pentax k-1000 (I still have it).
It makes me happy to shoot. My son and I are going on our annual tradition to Otakon (a fan convention for those who love the art of anime). I do not have the money others do to blow on merchandise and souvenirs when we go to this convention, but I take pictures every year. So my reason is to enjoy something I enjoy more richly and to use that enjoyment to capture memories. Okay. I understand. I get it. The one thing is not about a shiny toy, it is about something else connected with presence, delight, and love.
I found myself thinking back to the presence with my grandfather and selected toy. I almost always chose something related to Snoopy when he would take me to the toy store. Why Snoopy? Reading Peanut's cartoons in the daily paper was something we did together. We also liked watching the Charlie Brown specials on television. I was trying to get something that made me think of us.
So what was my child trying to say in his presents while we had presence? It was simply this. "Dad, this is who I am. See that and accept that."
This Monday when I turn 48, I am sure to get the presence and I will likely not get the present. The present seems to be connected to the presence, so if I had to choose one or the other, I will take the presence.
Liked This Column? Become a Patreon!
I need your support and help. If you like the work being done here, please support it…and me….financially. Visit my patreon page at https://www.patreon.com/patlgreen to support this work on a regular basis. Or to offer one time gift of support, go to my paypal at paypal.me/patlgreen