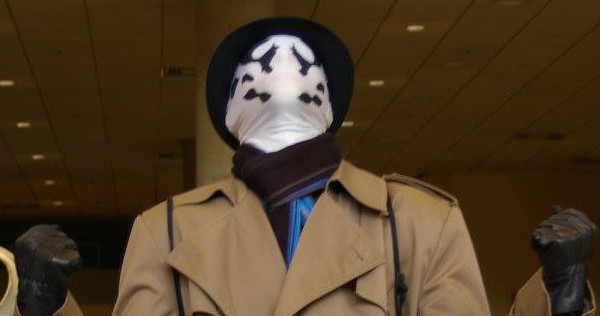 I went out to the outdoor deck at the convention center to get some air. Cosplayers were meeting "professional" photographers in this area. I saw a young lady dressed as Supergirl. The photographer made Larry Flint seem a gentleman. I got involved. Cosplay should be fun and not a #metoo story.
3 years in a row I have taken my son to Baltimore for a convention called Otakon. It is an Anime convention. Where ComiCon celebrates pretty much everything, Otakon is focused on celebrating the Japanese art form of anime and manga. We did not go last year. Finances got in the way. However, cosplayers reflect their favorite characters in all genres. Each year we go you will not only see Anime characters celebrated like Sailor Moon and Attack On Titan, but you will see everything else from Marvel and DC superheroes and video game characters to one man cosplaying as Bob Ross.
I have learned over the years to respect the cosplay community. They are enthusiastic, accepting, and they create beauty and positivity. For my son it is three days in a year where no one cares what gender you are, who you are attracted to, or any other such standard.
Though we go together, he meets up with friends he knows at the con and does teenager stuff while I take photos, go to panels, and enjoy some of the other local sights.
After eating a sandwich by the food court, I decided to step out to a large balcony at the Baltimore Convention Center to enjoy some fresh air and sunlight. This balcony was where professional photographers did paid shoots for cosplayers.
As a photographer I looked about at the gear and the engagement these people had. Some were polished and others looked more like they came from a department store where they were better suited selling photo packages than taking the pictures.
Then I saw something out of the corner of my eye that caught my attention. There was a young lady dressed up as Supergirl. If she was an adult, there was no way she was old enough to drink yet. You could tell her costume was handmade and crafted with care and passion. She was not the problem, the photographer was.
She was there to celebrate her favorite character, not be sexual about it. He had her positioned against a concrete pole and told her to put herself in positions that you could tell she was not comfortable with.
I watched for a few moments. I also saw a tall adult woman in a costume watching. By her expression she felt the same I did. Then I heard the photographer tell her to arch her back more to perk "them" up and there was a look of shame on the girl's face as she started to comply.
I walked up to him and told him that was enough. The shoot is over. He looked at me incredulously and told me to go away, he's working. I told him he was not being professional in his engagement with a subject and he really needs to pack up his gear and leave. I saw the young supergirl relax her posture and relief come across her face as she realized she was not crazy.
He started to get confrontational with me. He basically asked what I would know about it. I told him we're the same age and I'd been shooting since '83 and a newbie in college would know the difference between a respectful photographer with a model and a dirty old man getting his rocks off shooting young girls. He tried to push me with one hand. I pushed his arm aside and swept my leg under one of his light stands forcing him to grab for it before it hit the ground.
He started to pack up his stuff and I went to the young lady. I asked her if she was all right. She said yes, but her eyes were welling up with tears. She then said thank you. I told her that working with photographers is like dating. No means no and as the model you get to choose what you are comfortable with.
Some of her friends came over to her and asked her what was going on. She looked at me one more time as she wiped a tear from her cheek and said thank you again as she went back inside with her friends.
The photography world has been oversaturated with non professional professionals since the proliferation of digital photography. I have seen them at photo meetups full of gear and disrespect for volunteer models as they gaslight their subjects who do not know any better into doing their bidding.
The point is this. People just trying to celebrate who they are and what they love should be encouraged and respected. But predators would take that away from them.
Today's My Birthday! Become a Patreon!
If you like the work being done here, please support it…and me….financially. Visit my patreon page at https://www.patreon.com/patlgreen to support this work on a regular basis. Or to offer one time gift of support, go to my paypal at paypal.me/patlgreen