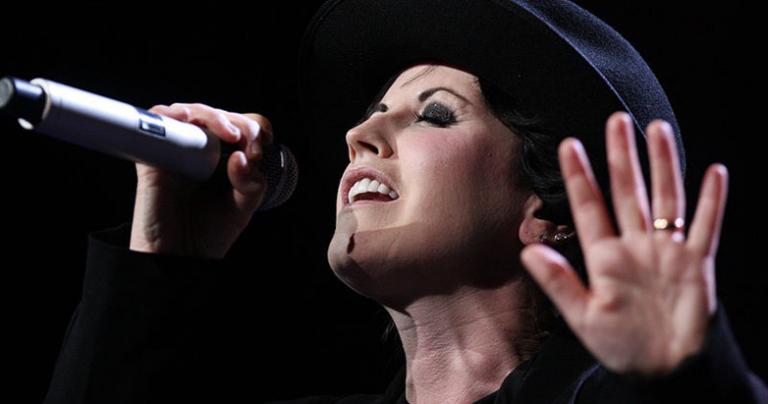 On January 15 of 2018, Dolores O'Riordan was found dead in a hotel room. When it first happened there was a lot of gossip and speculation about the cause of death. On September 6th, BBC News reported the coroner ruled it an alcohol related accidental drowning. This story has been important to me, as has been her inspiration.
Due to not only my appreciation of Dolores O'Riordan and her art (I'm a fan), but the parallels of being victims of abuse, child sexual assault, and struggles with mental health and suicidal thoughts, I felt compelled to write about her. What I wrote had unexpected consequences of beauty.
When I wrote "On Dolores O'Riordan, Abuse, Depression, Suicide, and Surviving" I had no idea what an impact it would have. It is my most read blog on Patheos. It is also my most read and shared piece I've ever done on the internet. Multiple suicide prevention groups and therapists sent me messages of appreciation for the article. Some asked for permission to use it in their work and organizations.
I was careful in approaching this topic. She has children, a family and dear friends. I wanted to be respectful. I did not assume suicide. Frankly, some of the coverage on Anthony Bourdain, Kate Spade and Robin Williams felt more voyeuristic, sensationalized, vilified and glamorized than honest and respectful. They were props in a writers clickbait. Human lives that ended due to depression deserve better than to be someone's prop as do the 300 million people who suffer from depression.
The Facts
According to the inquest she was found with her nose and mouth submerged in a bathtub. There were no signs of struggle, foul play or self harm. There was an empty bottle of champagne and five small bottles of other alcohol present in the room. Additionally, there was also prescription medication found in her room.
Toxicology revealed that she had taken the "therapeutic amount" of the medications. This means she did not exceed the recommended dosage. The toxicology did discover a "330mg of alcohol per 100ml of blood – meaning she was more than four times over the 80mg legal limit for driving."
In the hearing it was also revealed that we she went through phases of abstaining from alcohol and phases where she would drink excessively. At the time she was also reported to be in good spirits and responding well to her treatment for be bi-polar disorder.
End of the day, this was likely a tragic accident that could have happened to anyone. Injuries and death from hot tub use or bathing while intoxicated is more common than many people think.
Dolores' Thoughts
People Magazine reported the following from an mash up of interviews.
 Additionally, she opened up to the outlet [Belfast Telegraph] about her struggles with substance abuse. "I am pretty good but sometimes I hit the bottle," she said. "Everything is way worse the next morning. I have a bad day when I have bad memories and I can't control them and I hit the bottle. I kind of binge drink. That is kind of my biggest flaw at the moment."

"On tour, it was just so easy to say 'I can't sleep. I've had a couple of drinks. Maybe I'll take on,'" she added to the Mirror UK. "Then you take another. Then you don't wake up. That can happen. I am careful now."
Alcohol is the most common tool of self medication. It is legal and readily available without a prescription. The Walgreen's Pharmacy down the road from me has a lock on over the counter pain medication requiring me to get an associate. They also have a limit as to how much over the counter sinus medication I can buy each month. I can, however, purchase as much alcohol as I wish without the help or permission of a store associate.
What Now?
Dolores O'Riordan was a beautiful person who loved her family, her children, and music. Her trademark song, Zombie, was a cry of anger over the injustice of dead children in a terrorist bombing in the midst of a divided Ireland. Another amazing song she wrote was 'Salvation' in which she implored others to not do heroin or cocaine because it is not what it seems and it not a road to freedom. So much of her music and her spirit was taking that hard road to beauty, justice, freedom and hope. The thing is, the most tortured of souls are often the ones who know the true value of beauty and of love.
In the wake of fatal event of celebrities who share common human frailty with the rest of us, we turn them into objects for self righteous PSA's and reduce their humanity.
With my name, it should come as no shock that there is a bit of the Irish in me. The Irish, similar to the New Orleans Jazz Funeral tradition, will celebrate death. It is not only the end of pain, but it is the recognition of the wonder that a person's life was.
TransParent Expedition is About Transparency
I recently spoke openly about my sexual molestation. In my first article about Dolores, I shared my struggles with depression and suicide. There have been times in my life where binge drinking and self medication had a role because I could not handle the memories and thoughts in my head. There have been some distinct points in my life where I binge drank. It was not uncommon to self medicate to the tune of more than a bottle of wine a day, or copious amounts of scotch or whiskey. I look back at those periods in my life and am grateful that nothing more tragic than waking up in a strange setting, pondering blackouts and recovering from hangovers were the worst of it.
The Judgement That Enforces Silence
We hide our mental illnesses and conditions in ways no one hides getting a flu bug or being diabetic. We all know that people will get the flu more than once in their lives and there is no cure for diabetes. The same is true of depression and bipolar disorder and so many other things. But if you admit to having or having had depression, anxiety, bipolar disorder, suicidal thoughts self medication or any other such thing that either may happen again or has no cure, people think less of you.
I speak about it openly because I want others to know that they have nothing to be ashamed of. The shame should be on those who think seeing a therapist is bad, medication is weak, or think less of you.
In the comments of my recent article about The Clergy Project , a retired psychologist and material supporter of the clergy project made a derogatory remark regarding my self worth and therapy. Recently a progressive liberal presbyterian minister ended his friendship with me until I got help based on his standard. I am in therapy, I take medication, I have always been open about that. My family and my therapist recognize my progress and congratulate me. To hell with anyone who judges me, my son, my fiancee' and others in my life.
Dolores O'Riordan Was a Hero
Dolores O'Riordan was a hero. Her mental and emotional struggles were not a weakness. They were nothing to be ashamed of. When you seek treatment you are far more self aware than those who judge mental disorders, medication and treatment. That self awareness also creates a broader awareness of the world and the possibilities of beauty. That beauty can express itself through music, art, poetry, and acts of justice and of strength.
Celebrate her life and the lives of others we have lost in the fullest beauty you can. Listen to her music. Celebrate who you are and love those around you who have struggles with things beyond their control.
Nike shows us ads of brave athletes in wheelchairs or missing limbs who have overcome and "do it". Every day, many people sing a song, go to work, and face their inner thoughts. They 'do it' despite the daily struggles of emotional and mental struggles.
Dolores O'Riordan is a hero to be celebrated, not a PSA to be reduced. So are 300 million others of us.
Like This Column? Become a Patreon!
If you like the work being done here, please support it…and me….financially. Visit my patreon page  at https://www.patreon.com/patlgreen to support this work on a regular basis. Or to offer a one time gift of support, go to my paypal at paypal.me/patlgreen