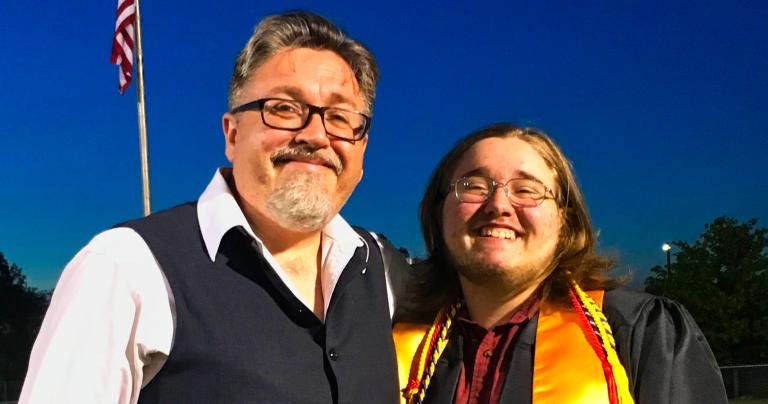 I'm not the right person to tell my child's story. I learned that when I heard the right person tell Dave's story yesterday. That person was Dave. Dave had a team behind him. Who was that team? ABC News Chicago. Watch this:
How Did This Story Come to Light?
While I have been in the hospital dealing with depression I have not been getting paid. So for a few extra bucks I did a story for Chicago Unheard. It was essentially a condensed version of a column I wrote here regarding Dave's Homecoming with a twist of contrasting the two high school's Dave went to.
Next thing I know, I have the planning editor of ABC News in Chicago contacting me and wanting to run a story based on what he read in the article. As I mentioned in my last column, I left the decision to move forward to my child.
Sarah Schulte was the reporter who came to our home. She has been with ABC Chicago for two decades now. She is a fixture and is often on top of, and breaking, important stories not only in Chicago, but nationally and internationally. I am a reporter and columnist geek so knowing she was coming was a thrill for me, but it was essential for Dave.
Sarah Schulte knows this arena. Dave is not the first young transgender person she's interviewed and I am not the first parent either. As a seasoned veteran reporter she knows how to tell a story and let a story tell itself better than I can do. Journalism is an art, discipline, and science that I wished more people respected and understood.
The Mic Was Dave's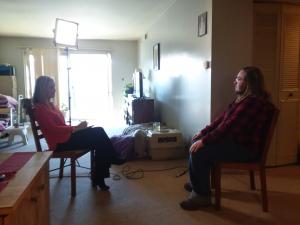 Before the interview happened, I assured Dave that I wanted this to be Dave's show and not mine. I have had the microphone at TransParent Expedition for two years now. It was time for Dave to tell Dave's story on Dave's terms. There was a moment that Dave had named the former high school that was hurtful to Dave. Sarah stopped, looked at me, and asked me about naming the first high school Dave went to. In pre planning I told the editor I did not want to name Bolingbrook High School. I did not want that fight again. I looked at her. Then I looked at Dave. These were the terms Dave wanted to tell the story. I said, "I'll defer to Dave on this one." The interview continued on Dave's terms and Sarah and her team's skills honored and reflected that.
The Better Story
In one horrible year I was losing my faith, my church and my marriage. I walled up. A friend of mine told me that if I did not tell my story, others would. He was right. The better story is the one we tell about ourselves when we love ourselves.
What you see in the video and what Sarah wrote in her column (which you should read) is a piece of Dave's story on Dave's terms.
In Geek speak, the story Dave told is canon. What I write is fan fiction. I am still not sure what to call what William Lane Craig did in regard to my kid.
The Amazing Dad
People often tell me what an amazing father I am. It feels good to hear that I am a good dad. I take great pride in that. Being a good dad was pretty easy. I just had to not do like my dad did.
The entire goal of this parenting thing is to raise them to be adults that contribute good to this world.
Nailed it!
Support a Writer This Holiday Season!
There are three ways you can support me. If you feel what I do here matters and want more, you can help by doing something rebellious. Pay for a free column!
Become a Patreon: Patreon is a space where you can support writers and artists much the same way many do PBS and NPR. You can go to my patreon at https://www.patreon.com/patlgreen and pledge monthly support for as long as you are able.
One Time Gift: Feel free to go to my paypal at paypal.me/patlgreen to make a one time gift. If you want to include a mailing address, I will be happy to send a hand written thank you card, postcard, or maybe even send you a small thank you.