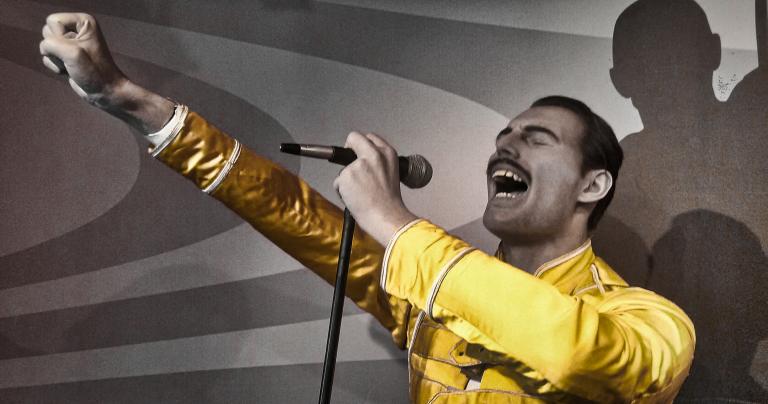 Freddie Mercury and Queen helped me see the wickedness of the church and the beauty of art. My kid and I saw "Bohemian Rhapsody" on New Year's Eve. Even though the movie had been out for awhile now, the theater was pretty crowded. The movie's key moment is the 1985 Wembley Stadium performance of Queen in Live Aid. Live Aid was a key learning moment for me as a Christian teenager sitting in front of the television watching it. In 1991, upon Freddie Mercury's death, I would learn another lesson. How evil the christian church can be.
In 1984 I was sitting in the garage at my house crying. In front of me were two large garbage bags full of albums, cassettes and Dungeons and Dragons material. I was told by a youth pastor that I had to get rid of them if I wanted to please God. Secular music and games that invoke imagination and creativity were demonic and would destroy my soul.
I went to my room after finishing my task. I could not bring myself to get rid of my Bon Jovi, Foghat and Queen.
Conjecture Over Freddie Mercury's Sexuality
The youth group I went to in the 1980's used to have guest speakers come to tell us how evil rock and roll was. They were quite obsessed with sex and sexuality. Some said Freddie was gay and others said Freddie was bi. In any case, Freddie Mercury was evil and would poison our minds with his gayness. I did not completely understand why I was supposed to hate gay people, but they were experts and there was a spiritual war going on. But I still could not let go of my tapes and albums. The music was too good and spoke to me.
Live Aid Lessons
Live Aid was a big deal when it happened. Televisions all over the world were tuned in to the same thing at the same time. Our family's television was no exception. It is not hyperbole to say that when Queen took the stage, the show lit up. At one point during their set, someone in the living room asked about Freddie's sexuality. My uncle said, "Shouldn't matter who he sleeps with, he's a great singer."
My uncle was the epitome of cool. He had a classic muscle car, long hair, rock t shirts and had friends that were just as cool. I admired him like a little brother admires a big brother. He was manly…macho….cool. My grandfather was laying on the livingroom floor and he just nodded at what my uncle said. My grandmother talked about some relative that was in the closet when she was young and she thought it was a shame he could never be himself.
Aftermath of Freddie Mercury's Death
The night before Freddie Mercury died, he released the following after years of conjecture about his sexuality and the likelihood of his having AIDS:
"Following enormous conjecture in the press, I wish to confirm that I have been tested HIV positive and have Aids. I felt it correct to keep this information private in order to protect the privacy of those around me. However, the time has now come for my friends and fans around the world to know the truth, and I hope everyone will join with me, my doctors and all those worldwide in the fight against this terrible disease."
Freddie had people who loved him that knew and did not care. His partner Jim Hutton, the band, Mary Austin and many others. But that love was not enough for others. On one side the homophobic church stated the wages of sin is death. This was Freddie Mercury's just desserts for mocking their god with gay sex. The other side had people that raked his legacy over the coals for not being an advocate when he was diagnosed.
I remember sitting in church the Sunday after he died. I was no longer a teenager in a youth group. Now I was a young man in his twenties with his first youth group as a youth pastor. Our senior pastor took to the altar and practically celebrated the death of Freddie Mercury and dared to speak of a just god.
As the pastor spoke his hateful filth the words of my uncle echoed in my head. I looked around me and saw people nodding their heads with the occasional amen uttered. For the first time I saw what we were as christians. We were ugly. We were hateful. This group took glee in the horrific death of someone.
This meant that they took glee in the deaths of countless people who died of AIDS so painfully. There was a time where HIV was a death sentence. For many it still is due to lack of access to medication.
The Final Lessons From Freddie
I knew I was going to write about Freddie Mercury after seeing "Bohemian Rhapsody" with my kid. I started doing research. In the comments of many articles are continuing debates. Some people say definitively that Freddie was gay. Others say Freddie was definitely bi. Still others say he was a degenerate and an abomination that deserved death.
It doesn't matter what anyone's sexuality or gender identity is. What Freddie Mercury's sexuality was does not belong to us. It was his story to tell or not tell on his terms. People try to take that right away from LGBTQIA+ people to this day. Once their sexuality or gender identity is revealed, it becomes their defining characteristic for too many people.
Freddie Mercury was the world's greatest frontman in one of the world's greatest bands. Conjecture of anyone being gay in a time when it was illegal in many places and considered to be a mental illness could destroy someone's career and very life. In such a setting for a person who loved sharing music and poetry with the world, Freddie Mercury owed the press and the public nothing. He had no duty to be defined by one thing that small minds could not love.
When AIDS first struck in the 1980's it was called the "gay cancer". With a few exceptions, the church was not present with compassion for those who were dying. The church took, and in many cases, and still takes glee in the suffering of others calling it justice from an allegedly loving god that has a wonderful plan for our lives.
One's sexuality or gender identity is not the defining characteristic of who someone is any more than my defining characteristic is that I am a cisgender hetero male. My child owes the world no explanation or justification of their gender identity or sexuality. Yet so many who commented on the ABC news story about us and the Christian Podcast about us felt differently.
Closing Thoughts
When I started my recent treatment to address my mental health, I was listening to music on my smart speaker one night. Queen's Under Pressure kept cycling into my playlist. I gave the lyrics a closer listening. A song I have known for decades made me break into tears.
"And love dares you to care for
The people on the edge of the night
And love dares you to change our way of
Caring about ourselves"
I stopped caring about myself. I had to allow love to change the way I care about myself.
Fred Rogers told us we were lovable exactly as we were. He also told us to look for the helpers in a time of crisis. Freddie Mercury reminded me of the importance to love others and myself. The church taught me to hate people over something that is none of our business. In times of crisis in my youth and adult life, music like Queen's has been there for me in ways the church never has been.
My world is richer for having walked this road with my child. Despite the indoctrination of my youth, I am welcomed and loved by many people in the LGBTQIA+ community. These are my friends, my teachers, people who love me and I love them. Our sexuality and our gender identity is a part of who we are, not all that we are.
Like This Column? Please Support It!
If you like what you read here and wish to support this work financially, I would appreciate it.
There are three ways you can support this. If you feel what I do here matters and want more, you can help by doing something rebellious. Pay for a free column!
Become a Patreon: Patreon is a space where you can support writers and artists much the same way many do PBS and NPR. You can go to my patreon at https://www.patreon.com/patlgreen and pledge monthly support for as long as you are able.
One Time Gift: Feel free to go to my paypal at paypal.me/patlgreen to make a one time gift. Include a mailing address if you wish. I will be happy to send a handwritten thank you card, postcard, or maybe even send you a small thank you.