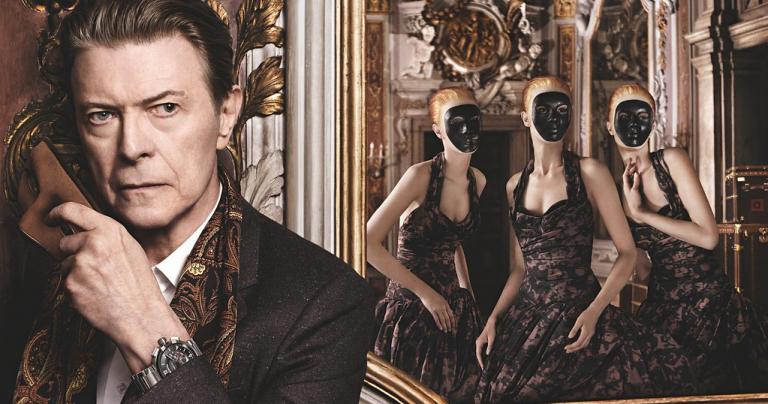 To make David Bowie to be a saint or a sinner is to not understand that life exists in the nuance of neither. There are important messages in his art, but also his life. In many ways, Bowie has served as an example of acceptance, intersection, and living life on your terms. As a TransParent, as an ally, and as an artist, these are lessons I have needed since a young age.
Discovering Bowie
As a teenager and even now, most of my music gravitates towards rock, metal and punk. My play list has more Billy Idol, Bon Jovi, the Ramones and AC/DC than it does pop and top 40. I first noticed Bowie when he was being interviewed by MTV. MTV was new and exciting. He was challenging VeeJay Mark Goodman about MTV's lack of black musical artists. Goodman, instead of agreeing with the obvious, doubled down on the assumption that black artists were not what the kids of America wanted. Bowie doubled down logically on how asinine a position Goodman and MTV were holding to.
This was my first experience of what an ally is and how important intersection is. I did not know Bowie was part of the LGBTQ community at this point. All I knew is that he was speaking about black artists and children even though he was neither. Before making his points, he did his research and he did not take excuses and suffer fools gladly. There was another thing that he did that was noteworthy. He did not try to lead the charge on behalf of another race. There are a lot of well meaning white cis het progressives today that try to speak for a group and not stand with a group.
What he did here was point out to another person of his own race that there was a problem in perception and representation. He was factual, he was deliberate and he was well thought out.
Art As Social Statement
In high school I was an avid reader of National Geographic, Life Magazine and the Chicago Tribune. It was about the photojournalists for me. I understood how a photo could tell a story and change perception and understanding. I was a photographer for my high school paper and a local paper in the 1980's.
I did not yet realize the power of social statement in the arts. Then I saw my third David Bowie video on MTV. It was called China Girl. I remember being uncomfortable with it visually and lyrically. I could not put my finger on it, but it felt different.
I bought the "Let's Dance" album at a local mall a few weeks later. I was now able to listen to the music on demand. I realized something about the song. It was intentionally racist and showcased how white men with Asian fetishes objectify the woman in a possessive manner and also destroys her culture. It was an uncomfortable and deliberate failure at portraying interracial love into a fetish of colonizing western white people.
Music as protest, social message, and change would lead me down a rabbit hole of discovering artists who's work included message for change just as, if not more, profoundly as photojournalists could.
Bob Marley, Bob Dylan, The Clash, anti apartheid music, Dr Maya Angelou and so much more would come to life in front of me. I discovered art makes a difference, carries a message and challenges us to face what is broken in the world to change the world.
LGBTQ In a Time We Did Not Face It Well
In the 1980's we portrayed gays and lesbians as caricatures for cis het amusement in entertainment. AIDS was known as the gay cancer. In America we wanted to quarantine people with AIDS and we felt gay people and gay sex was dangerous, scary, and gross.
When I was in high school, we had a major scandal when a homecoming queen came out as a lesbian. We also had one teen in my theater group that was out and a few that we "suspected". This is a stark contrast to my child's time in high school where so many of their friends are gender fluid, trans, bi, lesbian, gay, pan, and so much more. It is the norm and that is beautiful.
In my homophobic 1980's suburban high school setting there were actors and musicians that people loved to tell folklore about. One of them was David Bowie. He was gay, he was bi, he was a "gender bender". David Bowie, Liberace, Freddy Mercury, Elton John, Boy George and others were less because they had sex with men. The jokes about gay people abounded while the western world did more to shame the AIDS epidemic than to help and assist with few notable exceptions.
As I was becoming more interested in music, my magazine reading started to include Rolling Stone, Creem, and the occasional issue of Playboy if there was an interview making a buzz (the articles are actually a thing). Bowie had been out as bi since 1972. A scant few years after Stonewall and only a short time after being gay was no longer punishable by law in the UK. There was no scandal or secret. The reason it was not in our conscience all the time is his sexuality, rightfully so, was not his defining characteristic. It was only a titillating fact to those of us who were afraid of it.
In the early 90's, thanks to the manipulative prodding of Joan Rivers and Howard Stern, Bowie's ex wife would claim she caught Mick Jagger and Bowie in bed together. This rumor would be denied and backtracked by his ex wife. Where Bowie would only mention sexuality as a fact of his life and celebrate artistically, the media made his sexuality scandalous for ratings.
His bold portrayal of gender fluidity would inspire many artists, LGBTQ people and have an affect on an entire industry.
Bowie Would Inspire Others
I will turn this section of the article over to Billy Idol who released the following statement in the wake of Bowie's passing.
"In this age of grand illusion you walked into my life out of my dreams."

David Bowie was a beacon of light to young people in Britain's socially disturbed & turbulent economy of the early 1970's. He paved the way for Punk rock as he took an uncompromising stance against the conservative viewpoint of much of the intelligentsia of the day, and whether it was for gay rights or a fight for artistic freedom, or the right to state your case about the world, Bowie's music led the way.

Not willing to be controlled by the artistic norms of the day he introduced many art forms into his world view…mime, dance, kabuki theater, film and character driven personas that broke new ground in rock music beset by others whose vision was limited to only one genre of music, art or film.

His sound & vision woke up this young Bromley boy & showed me that to strive for an artistic life was valuable & was a goal to reach & once attained, new vistas and new worlds would open up. Beyond a visionary, he was a prophet, and his influence will be felt as long as recorded music is still heard and many people's struggle against social oppression is still being fought.

He was a giant on our scene engaged and genuinely interested in other artists reaching out in a way that made me, and I'm sure many others, feel like we were talking to a friend that cared deeply.

– Billy Idol
Connecting The Generations and An Announcement
In a prior article I wrote about "David Bowie and Freddie Mercury Being Under Pressure by the Christian Right". I wrote about my child having a love for David Bowie. My child is not the only LGBTQ teenager that likes Bowie. There are others.
A few months ago an amazing mama bear of trans teenager raved about my articles I wrote about Freddie Mercury. That led to a discussion in which she told me her teenager had a list of artists they wished I would write about.
This post and a new direction I will be going into are dedicated to someone I will lovingly call A.
The announcement is I will have another column on Queer Voices. I was invited by the editor and it is an honor to be on their staff. I will still write in Patheos. Patheos is where I get to channel my inner David Bowie to the Mark Goodmans of the world.
Though I am welcome to cross post the stuff I write here over there (and vice versa), I wanted to take what I write in Queer Voices in a different direction. Writing to an audience that includes so many anti LGBTQ voices is exhausting sometimes. It is also necessary work. But I want to have fun too.
I was a little stuck as to what direction I would take in my new work. Then I thought of the aforementioned conversation with a list of artists a teenager wants me to write about.
A-this post is dedicated to you. Even though we have not met, I am a big fan of your mom's. The only advice I can ever give you is never wear a braided tail near your mom. Without mercy and with great delight she cut mine off in 1986.
That said, if you ever want to guest write a column here or on Queer Voices, you have an open invitation.
Now we close out with a song…..
Heroes. A reminder that we are all more. All of us. All races. All genders. All sexualities. We can be heroes. Not just for one day, but any day. Bowie helped us see what that looks like.
Like This Column? Please Support It!
If you like what you read here and wish to support this work financially, I would appreciate it.
Become a Patreon: Patreon is a space where you can support writers and artists much the same way many do PBS and NPR. You can go to my patreon at https://www.patreon.com/patlgreen and pledge monthly support for as long as you are able.
One Time Gift: Feel free to go to my paypal at paypal.me/patlgreen to make a one time gift. Include a mailing address if you wish. I will be happy to send a handwritten thank you card, postcard, or maybe even send you a small thank you.