Biola University is putting on a unique event on April 30: A dialogue between Cornel West and Robert George, moderated by Rick Warren. The topic is "The Cost of Freedom: How Disagreement Makes Us Civil." If you–like me–can't make it out to Southern California for this, I'm told the event will be live-streamed. I plan to take it in. These are two significant public intellectuals, representing very different sides of the political/theological/ideological spectrum. Perhaps if they can model cordial dialogue on tough, divisive issues, there is some hope for the rest of us?
The event is co-hosted by Biola's Torrey Honors Institute and Biola's Center for Christian Thought. If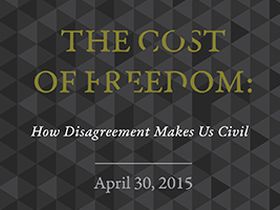 you've followed "The Table," a publication of the Center, you'll know that they are doing some very interesting things. For a conservative evangelical institution primarily known (in my experience, anyway) for theologically conservative and traditional apologetics and analytic philosophy, the Center is exploring some different territory around issues of faith and science, ethics, public theology, etc.
Here is the link for more info and registration for the event (which is 7:30-9:30 pm–I assume Pacific time): http://cct.biola.edu/events/2015/apr/30/cornel-west-robert-george-and-rick-warren-convers/