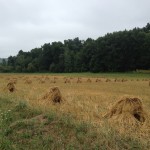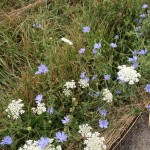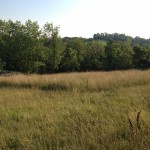 I think August is the midlife crisis month of every year. At least here in Minnesota, this is the time when things I haven't done begin to loom around the edges, saying, "If not now, when!?" It's hot and sticky here, but the days are getting shorter, and we all know where we're heading. Mortality calls us by name.
I was driving down the street yesterday and saw a treehouse. Not a fancy treehouse, not an amazing treehouse, just a pretty basic backyard maple tree treehouse. To my shock, upon seeing it, I burst into tears. Happily, I was alone, and not in heavy traffic, so I could pull over and get my bearings.
As I cried, what was running through my head was that it was suddenly, inarguably, completely and utterly clear that I would never be building my own kid that treehouse she once wanted. She is 16 now, breezing by occasionally in between the events in her complex social calendar. If I built her the fanciest, most spectacular treehouse on the planet, she would glance out the window, say, "Thanks!" and continue on her own way.
It's not that she begged for a treehouse when she was younger, or even particularly wanted one. It's not that I didn't give her other cool things, or experiences. It's that the window has closed on that possibility, and on the whole Mom-as-center-of-desire-fulfillment stage of her life. Don't get me wrong: It's not that she doesn't cozy up like a toddler when she wants something, usually money or permission to do something. But in her life's soundtrack, I am mostly the background music now, not very often the plot or the dialogue.
I know that's just as it should be, and still I sat by the side of the road and had a moment. A moment of grief and loss, a moment of clarity that it is time for me to redefine my own life, refocus my own days. Then, as I pulled myself together, a sense that there is some joy and excitement in that refocus. The regrets are real, but the pull of life's new possibility is much stronger.
Regrets come to me in surprising way. One morning, stacking dishes into the dishwasher, I ached with regret that I had never spent time on Ebay searching for particular dinner plates that my father said once, in passing, he liked. I still regret that I didn't give him a college sweatshirt—I know that he wanted one the Christmas that I was 19 and he admired the one I had one myself, but I told myself I couldn't afford the twelve bucks to get him one of his own. For God's sake, I think now, with all that money he shelled out!?!? I finally went back for a college reunion years later and sprang twenty bucks for a college t-shirt, which he received politely, but with no visible enthusiasm. I found it, clean and unworn, when I cleaned out his dresser after he died last year.
I don't know if this is true for other people, but the regrets that I have are much more about things I didn't do than things I did. I've done some really stupid things. Careless things, wreckless things, inappropriate things, occasionally something downright mean. I've made huge mistakes. But forgiving myself for those is somehow easier than forgiving myself for the things I never did. The trips I haven't taken, the risks I looked away from, the conversations and relationships I avoided.
So, in this final stretch of summer, I am thinking, what will I regret if I don't do it now? That lake down the street that I mostly just nodded to in June and July? I'm in it every day now. The garden, so easy to visit superficially? I'm diving into it now with my whole body, not caring a bit how filthy I get. My days have a mantra: grab summer now! This is your moment! Stop lamenting how hot it is and have some fun!