One night as the on-call hospital chaplain, I witnessed the end of three marriages, each representing over 50 years of love and struggle, as death claimed the husbands. The depth of grief of each wife haunted me for days. Was this the price of great love? Such great pain? This is what I have to look forward to after years of joy with my beloved?
I found myself restlessly meditating, pacing and praying, trying to unpack the promise of pain. In a sudden flash of insight, I realized that grief and love are two sides of the same coin – AND this is not cause for despair.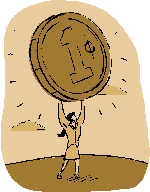 Life is about spending that coin. Loving with all my heart, grieving what is lost along the way, and loving more.
I learned to find gifts in sorrow, learning in the bad times. Hope.
I do not grieve what I do not love. Great grief is a sign of great love – and great love is a gift beyond compare. When my parents die, if they die before I do, I will mourn deeply, painfully, for years. Just the thought of not being able to call my mom and dad is enough for tears to spring to my eyes some days. But I have stood with children who do not mourn the loss of their parents, who mourn more for the lack of love they felt as a child than for the grief of their parents' death. So I know, beyond a shadow of a doubt that love is the gift. I would far rather mourn the loss of a great love, than have no love to grieve.
This really is hope for me. Not that loss is inevitable, no – but that if I love with all my being, the grief will be sharp and deep and clean. The pain will be intense and there will ever be an ache – but an ache of life well loved, not the ache of regrets nor of despair. I look to the beautiful and the sweet, because it will always lift me towards hope. The price of love is steep, but it is nothing compared to the life sucking numbness of not loving, not caring, not trying.
The great deception is that there is safety – that we can protect ourselves or our loved ones from harm. The truth is that life is mystery, change is constant, control is a figment of the human imagination. When I can be present to the truth that nothing is promised – all life is gift, then despair has a harder time getting a grip in my psyche. Each involuntary and thoughtless breath is amazing, is unearned and unearnable. Grace, by another name.
Years ago, I read the words of Anne Lamott, "I do not understand the mystery of grace – only that it meets us where we are and does not leave us where it found us." "Ah," said my soul. "Yes!" My source of hope lies in that mystery. I trust the universe to be endlessly creative, to be rife with paradox, to seek generativity. Life will! In the most inconceivable places and times and situations, life insists most creatively and assertively. And death will too. Two sides of the same coin, much like love and grief.
And so, I live holding all that I love lightly and tightly.
Lightly enough that it may take its own path, tightly enough that it never doubts my love.
It is a spiritual practice.
It is a daily struggle.
It is a daily joy.