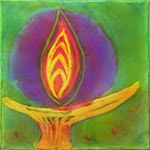 It is Carnival time in New Orleans!
From now until Ash Wednesday, there will be beaucoup parades, parties, and costumes…While February 12th will be "just another Tuesday" in much of the country, here it will be Mardi Gras – the final day of communal revelry before the ascetic season of Lent begins. It wasn't until I moved to New Orleans that I actually understood the season of Lent. While it may be perfectly obvious for some, it took the context of Carnival, culminating in Mardi Gras, for me to truly appreciate the gift of Lent. A season of contemplation and prayer after a season of glorious communal excess now makes perfect sense.
But first – the glorious communal revelry, the collective joy…
While Lent encourages us to turn inward for reflection, sometimes taking our humanity to task, Carnival gives us the resources to accept and even celebrate our humanity- mine, yours, that stranger's. Carnival reminds us, in the wisdom of ecotheologian Thomas Berry, that "the universe is composed of subjects to be communed with, not of objects to be exploited."
In Dancing in the Streets: A History of Collective Joy, Barbara Ehrenreich proclaims:

invites everyone to the dance; shared food briefly undermines the privilege of
class. As for masks: They may serve symbolic, ritual functions, but to the extent
that they conceal identity, they also dissolve the difference between stranger and
neighbor, making the neighbor temporarily strange and the stranger no more
foreign than anyone else. No source of human difference or identity is immune to
the carnival challenge… At the height of the festivity, we step out of our assigned
roles and statuses—of gender, ethnicity, tribe, and rank—and into a brief utopia
defined by egalitarianism, creativity, and mutual love."
"While hierarchy is about exclusion, festivity generates inclusiveness. The music
Collective joy tells us that we are enough – that we are all enough, that we belong to the wonder of creation. As Rev. Sam Trumbore once prayed:
Ash Wednesday will arrive soon enough…
Now, we feast on the abundance of life
The delight of hearing, seeing, smelling, tasting and touching
In a celebration that unites
the diversity of all races, classes and faiths
at the common table of fellowship…
May it be so.
Happy Mardi Gras, beloveds!