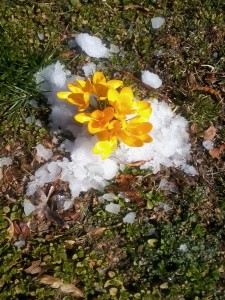 Tomorrow is the first day of Spring in the Northern Hemisphere. Here in Central Pennsylvania, yesterday felt bitterly cold and we had several inches of snow. Yesterday was winter, and the weather forecasters say that it may be wintery again tonight with cold temperatures and more snow. But today the sun is out, the snow is melting, and the crocus blooms in the snow. The air feels like Spring and the bird songs sounded cheery and hopeful. Tomorrow is Spring and today is beautiful.
I have asked several small groups in my congregation to recall their own spiritual experiences and then to look for the values in those experiences. For each group one of those values is awe and reverence for nature and for beauty. One man mentioned awareness of the fragility of life. Beauty is today.
Much of the beauty that we respond to and love is fragile and fleeting. The snow melts. The crocus blooms and dies. The way light and shadow fall across the landscape is constantly changing. Music dies away. We could lament fragility and the fleeting nature of beauty. We can and do ignore beauty as our monkey minds fret about the past or the future. Or we can stop ourselves and live that value of reverence for nature and for beauty. We can savor the beauty that we find, the beauty that we see, hear, feel. We can be alive to delight and to gratitude.
My sister, Ginny, gave a sermon in her Unitarian Universalist congregation (http://www.unitarianchurchofmontpelier.org/index.php/resources/ucm-sermon-podcast). "Is Happiness Escapist or a Valuable Spiritual Practice?" Ginny's answer is, "Yes." Ginny talks about one of her own favorite happiness practices, savoring. To savor is more than to appreciate. It is to attend and to delight. It is to be alive. As Rumi says, "Let the beauty that we love be what we do. There are hundreds of ways to kneel and kiss the ground."
May you see and savor beauty today.