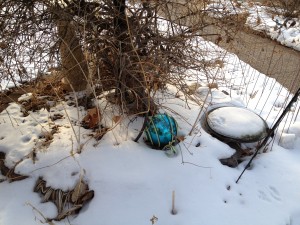 Hard to believe we're turning towards April in Minnesota, where I live. Out my window, I only see snow and dead leaves on the plants still standing from last year's garden.
I pawed through the snow this morning to see if I might find anything living at all—often the first thing I find is an aggressive weed called Creeping Charlie. In the summer, I am all about pulling up Creeping Charlie and removing it as much as I can. In the spring, though, I greet it as one would the bloom of a precious orchid. I squeal, my eyes sometimes tear up, I then pull off a piece, lift it up to my face, and sniff. AAAAH, I say out loud, standing on my sidewalk, and I wave it in the face of friend, family or stranger who happen to be near.
Some plants have pungent smells: Herbs, or geraniums, or roses. Creeping Charlie in spring smells just like life. Even as I write about it, I feel myself yearning to see it, to smell it, to touch it. Knowing that by July it will, once again, be just an annoying weed, taking up space where I want something beautiful to flower.
It's been a long and cold winter here in Minnesota, and in many parts of the country—I'm just back from Boston, where I had hoped to see a few yellow daffodils blooming and instead saw white (and grungy) snow. I got out of town this winter, and headed to warmer climates as much as I could, but not long enough to keep me from getting a little edgy, irritable, surly even.
So, along about now, many of us start threatening to get out of Dodge, to live someplace that doesn't make us so cranky. This time, perhaps, I am serious…but then I start remembering all the reasons I truly love it here. And I paw through the snow a little more.
All of this is to say, today is the day that I'll plant my seedlings in the basement under grow lights. In the tiny section of the world I can control, I'll begin greening up the world a bit, going down each morning to see my new babies poke their little heads up from the dirt, begin to get the shape of the leaves they will eventually become.
I think there's a reason that seeds are such a universal symbol of hope. Every religion uses the metaphor of the seed to talk about possibility, growth, potential. In the seeds I plant today is my hope, and my affirmation, that once again, the snow will melt, the flowers will bloom, the herbs will be delicious, the roses will sweeten the air. But before that, blessed be the Creeping Charlie…