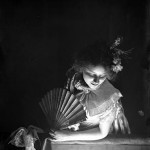 There are gifts that
come of breathing,
that come of blood
driving through veins,
no charge. Just being.
One is the noise of existence.
Another is when the noise stops.
After the theater
of the self has closed;
after the season of the self
goes to reruns, music
begins, slow, silent.
Then, you hear . . .
it was the thought itself
that created the chains,
the blinders. When the
mis en scene is struck,
gifts come, without
breath, without blood.