I really do not like waiting. I will put something back on a shelf rather than wait in a long check-out line. I will shop online, choose a different restaurant, come back later, or change my plans altogether to avoid a line.
I hate waiting for a bus too. Why stand and wait when I can start walking now? Usually, the bus passes me as I am chugging along down the street. It does not phase me. At least I didn't wait, I tell myself. A funny logic, I know.
I remember as a child waiting for special days, like birthdays and Christmas, and feeling as though time was moving as slow as molasses. As a teenager, I would count down days until I could visit out-of-town friends or go to summer camp: month after next, week after next, day after the day after tomorrow. It felt like time crawled until finally it was … today! And somehow, the long-awaited day had arrived.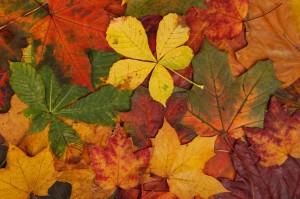 I am waiting now like I have never waited in my life. Expecting the child that I have carried for the past nine months to come into the world, I cannot make this magical event happen on my timeline. I cannot just set off walking. I cannot make a different choice or come back later.
My spouse and I have waited, counting months and weeks and days, watching my body change, following our baby's development step by step: organs and fingernails and eyelashes. We have moved from flutters to kicks to rolls, reveling in bulges that are feet and elbows, imagining what they might look like on the outside.
The leaves are changing here in New England and falling, one by one, covering the ground, shuffling under my feet as I walk, slowly now, talking to the baby:
We are ready for you. Come ahead.
The days grow shorter and the ground grows colder, prepping for dormancy, for a winter of waiting. Our waiting time is now. We wait for life to emerge.
Enjoy the wait, they say. While it's still just the two of you. While you and baby are one. Pregnancy is to be savored, they say. Well, mine has been complicated, often hard to savor, and at this point I am rather uncomfortable. But there is wisdom in their words.
And so I am practicing something that does not come naturally: enjoying the wait. I am practicing savoring each day, each moment that my babe and I are joined in this most intimate way that will never be again. I am practicing breathing deeply, being present, watching the leaves fall, waiting for our lives to change irrevocably, for our hearts to be transformed in ways we cannot imagine. Waiting becomes the practice itself.
We are over a month from the beginning of Advent, yet I have never understood the season as well as I do now: patience and reflection. Calmly, quietly preparing body, heart, and soul for the miracle that will be.