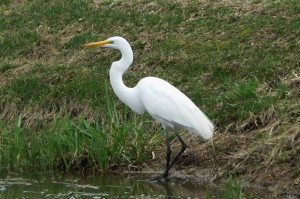 I was walking in City Park with a community organizer this week when suddenly we were only the width of the boardwalk away from a Great Egret, its fancy fringe plumes fluttering in the morning breeze. We paused, taking in the beauty, marveling at the unexpected joy of such a close encounter.
A few minutes later, on the other side of the lake path, I was startled by the sudden appearance of a pelican swooping in for breakfast. (With all due apologies to the fish), I clapped my hands in delight when I watched the pelican give the throaty head waggle that signifies success.
And I noticed, as our walk continued, that our conversation had transitioned as we were present to the beauty and wonder of where we were. A talk that had begun with the challenges and frustrations we were facing was giving way to some creative collaboration, some hope, some joy.
May you too find beauty in this world to give you hope and joy, to point the way towards collaboration, community, creative resistance to all that would tell us we are less than, not enough.