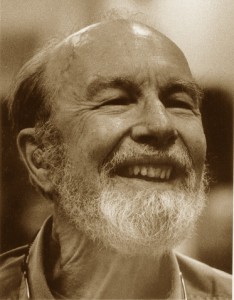 For the last couple of days my Facebook feed has been full of tributes to the late, great Pete Seeger—as well it should be. A genuinely remarkable man, Seeger spent his long life seeking justice, fighting oppression, telling the truth as he understood it, even in situations where the truth was most unwelcome. (If you haven't seen the transcript of when he was called before the House Un-American Activities Committee, do yourself a favor and read it.) He stood in front of the crowds to protest war, and he sailed up and down the Hudson River fighting pollution. But more than that, he had a gift for bringing people together, for turning a crowd into a community through the power of song.
He was extraordinary, but here's what strikes me. Anybody who really wanted to could do what he did. Sure, he was a good musician, but there are lots of people with better voices—walk into any college conservatory in the country and you'll find a singer with a rounder tone, a more operatic sound. Sure, he was good on the guitar and the banjo, but there are people in my personal acquaintance who are better. He wrote some wonderful songs, but they're hardly models of musical sophistication. His talent was considerable, but not really anything amazing—maybe not even all that special.
What was so incredible about Pete Seeger was not any singular gift or talent. What we celebrate, what we remember, was not a man who could do things no other person could, but rather a man who spent his whole very long life walking with a whole heart toward what he believed in. Whether it was his 70-year relationship with his beloved wife Toshi or an afternoon's connection with a crowd at a concert or a protest, Pete was fully present, fully engaged, ready to be connected. He was a man who knew the power of the people, and who used the considerable force of his personality not to draw attention to himself, but rather to engage people with each other, and with their ability to create positive change. He gave himself, and he kept giving—not as a martyr, but as someone who found great joy in the giving.
He had, in short, the power of the music. Not the power of musicianship; not the prodigy talents of a Mozart or a Yo-Yo Ma. No, Pete Seeger had the power of living in his music, living through his music. He knew the power of music to tell truths in ways that people could hear them. He knew the power of music to draw folks together through the interweaving of voices. He understood the power of music to raise energy, to call forth energy, to move people forward. He sang, and invited people to sing with him, because he understood the deep connection between music and love, and between love and justice.
And he just kept on doing it, decade after decade. We've lost a unique spirit this week, a man who put his whole heart into everything he did, a man who had a whole heart, unbroken by cynicism or despair. But I think what he would want us to know is that any of us could do what he did. Any of us could stand up to injustice, work for peace, speak our truth, sing out and keep singing. Any of us could be an instrument of freedom, of joy, of connection and the power of the gathered will of the people. Any of us could. Pete Seeger did.