Turns out there was another school shooting. Yeah, the one in Oregon, not the people who shot the cops in Las Vegas because they didn't like the government – that was the day before, I think. No, in Portland, Oregon, at a high school, not the university one in Seattle. That's been a few days ago.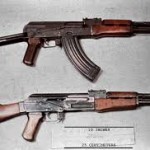 Yeah, it's a pity, really. The scared kids, the grieving families. It's a shame. But what are you going to do? I mean, people have a right to have guns. You can't take that away. It's in the constitution. I mean, those Cliven Bundy fans who shot the cops and covered their bodies with "Don't Tread on Me" flags were a militia of sorts, weren't they? OK, maybe not the most "well ordered militia" in the world, but they had a right to their armed government protest.
And that guy in Seattle, well, sure, it was terrible, but you know he had psychological problems, right? You just can't fix everything. And if you started taking guns out of the hands of people with psychologi
cal problems, where would it stop? I mean, if I go to a shrink because I'm feeling down, does that mean I should lose my guns? Really, over half of suicides are committed with guns? Yeah, I guess 20,000 a year or so seems like a lot, but what are you going to do? If you took away their guns those people would probably find a way to jump off a bridge or something.
It isn't fair.
Some idiot is always wanting to take away gun owners' rights every time a little kid finds a gun and shoots their sister or their friend or their uncle at a picnic. But you know what's no picnic? A bunch of regulations that say what kind of gun you can have and where you can have it and who is or isn't allowed to have it. If you want a gun you want it now, not after waiting around for a week while some paper-pusher pokes around in your private business to find out if you're OK to carry. Why should responsible gun owners have to submit to a bunch of rules and regulations because of a few random events? Thousands of random events? Whatever.
Face it. You know what isn't cool? The government getting up in your business. You know what is cool? People carrying guns in public. Did you see that picture of the guy carrying an AK-47 around the pharmacy aisle in Target? That's a bad ass. Nobody is going to mess with anyone while that guy is around. Little children can feel safe when they see that guy with an assault rifle is in the store.
Yeah, I heard about the guy who stopped the shooter at Seattle Pacific University using nothing but pepper spray. Sure, I guess that's pretty bad-ass in its own way. But then he wrote this pansy-ass letter about praying for everyone involved and how he wasn't really a hero and how God helped him see that the shooter wasn't a monster, but a sad and troubled man. What's with that? Blow away the bad guys, I say. And for that, everyone should have a gun.