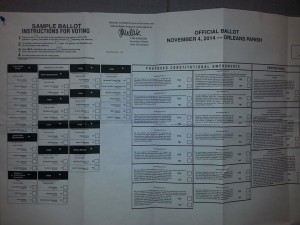 Today is the day, friends. The day to VOTE.
This is the day when we get a chance to be citizens and constituents, rather than just consumers. Today is the day this nation decides party control over the House and Senate, decides who will address the looming issues of raising the minimum wage, immigration reform, equal pay, and – let us not forget – going back to war.
In New Orleans, many judicial races will be decided today – criminal court, domestic court, juvenile court… Today we elect the people who will decide who goes to jail, who gets custody in a domestic violence case, whether or not your child gets a second chance… Beloveds, in a state that incarcerates more people per capita than any other state in the country, this election matters.
Wherever you live, it is the local elections that will most immediately shape your community. What happens in Washington, DC certainly impacts us, but rarely as intimately as local policy and enforcement.
If you are young – please vote! If you are an elder – please vote! If you are in the sandwich generation – please vote!
If you can vote, please vote.
If you voted early, well done!
If you, like me, plan to vote today – don't forget!
Vote today.
There are 2,867,473 registered voters in the state of Louisiana. Almost 2.9 million possible voters! Let's see what it looks like when we all show up to choose the people who will make the decisions that shape our schools and our families, our courts and our country.
With gratitude to everyone who can vote today and grief for all of those denied the right to vote through the gutting of the Voters' Rights Act and other egregious practices, I wish each of you well. May this election day end with leaders elected who care about you, your families, and our planet.
Go forth in peace and vote!
PS: In Orleans Parish, mark your calendar to vote on Dec. 6th, too! The state legislature has tried to do an end run around the Orleans Parish School Board (OPSB) and give away its money and control to the Recovery School District (RSD) through a millage vote that doesn't even list the RSD in the summary that will appear on the ballot. It is slick, my friends, and it is as wrong as having to work on Mardi Gras day. Mark your calendars for Dec. 6th and vote NO on the grand theft masquerading as an education millage.