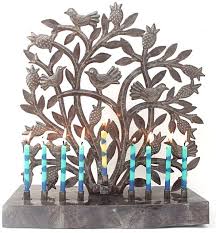 The Feast of Hanukkah, commemorating the rededication of the Temple in particular and the resistance of a religious people to eradication and assimilation in general, begins at sundown today, to be celebrated for 8 days (as it has for over 2000 years) until sundown on Wednesday, the 24th.
In the classic textbook A History of Israel by John Bright, we learn that the crisis for the Jewish community that proceeded re-dedicating the Temple was "precipitated by the Seleucid King, Antiochus IV Epiphanes… Upon taking the throne, he adopted a policy that soon drove the Jews to outright rebellion…[Antiochus] issued an edict annulling the concessions made by his father and to all intents and purposes forbidding the practice of Judaism"(422).
In the Peter Yarrow penned Hanukkah song Light One Candle, we are instructed to "light one candle for the pain they endured when their right to exist was denied." 
As we live through the darkest season of the year, let us take a moment to reflect on the signs of our own times, to bear witness to rights that are denied.
Based on my own interactions with loved ones lately, I can tell you that this holiday season will be most likely be filled with opinionated conversations inspired by the non-indictments in the lethal force deaths of Mike Brown in Missouri and Eric Garner in New York, the protests to the systemic racism exposed in these cases, the revived immigration policy debate, and the see-saw battles of same sex marriage.
Mohandas Gandhi, known as Mahatma (Great Soul) and revered for his lived philosophy of non-violent resistance, declared:
"You assist an evil system most effectively by obeying its orders and decrees."
Just as the Maccabees refused to collaborate with their own extermination, so too are communities outside of the dominate white-supremacist-classist-patriarchal-heteronormative narrative of this nation resisting.
Perhaps we can invite our neighbors and family to consider how we venerate the resistance of a people who would not be eradicated over 2000 years ago through a festival of oil and light each year – and invite these loved ones to bring that same compassionate lens to the pain and suffering to people today who live under threat of state violence by virtue of the color of their skin, the state of their immigration documents, the gender of the person they love.
Whatever our faith tradition, may we choose to stand on the side of the oppressed, with compassion in our hearts for the moral complexity of fighting to survive.  As we enter headlong into the holiday season, may we choose to respond with connection and holy curiosity as the narratives of our lives are pushed open to include stories long silenced or ignored – and may we have the courage to invite others to do the same.
Chag Sameach (Happy Holidays)!