One of the traditions of Wabash College (the college where I teach) is a weekly "Chapel Talk," given by faculty, staff, and other guests on a topic of their choosing. I had the honor of giving my first talk ("White History Month") this past Spring and I have enjoyed hearing several of the talks given by veterans and novices alike. Of all the talks given this past year, only one has stayed with me. It was delivered by the editor of our Wabash Magazine, Steven Charles.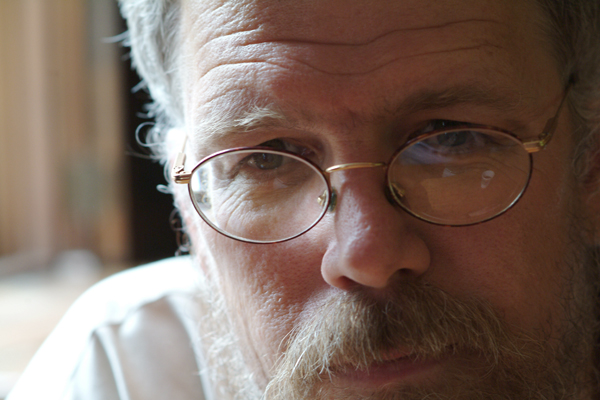 Steve is a quiet, shy, and gentle man who stands out in the way of a soft, cool breeze: he has the refreshing qualities of someone who knows how to listen, and listen with his heart. (He also listens well with his ears, as an accomplished self-taught guitar player.)
For the record: I don't really know Steve all that well. We've talked a few times and I'm sure he'll be surprised to read this gushy post, and this is precisely why I think it is important to share this here, at Vox Nova. Steve quietly embodies a life of holiness and and grace that, although he is a not an "official" member of a Catholic church, communicates a deep, rich catholicism to me. The same is true about several other friends of mine who are not Catholics in the formal sense. (Timothy Leonard and Brad Rowe instantly come to mind. They, too, are thoroughly catholic to and for me.)
During the past few weeks I have recalled Steve's chapel talk as we've read the parables of Jesus, and heard Christ reiterate the power of story to communicate the lessons of the Gospel. Because of this I like to think that our storytellers—our artists, in other words—are a special form of Christ in the world. And Steve is an artist in the purest sense, a living sign of God making things anew.
In the midst of the constant noise of the anti-art known as politics and the so-called "News," voices like Steve, like soft, cool breezes, often get drowned out and passed by.
Please take some time to listen to Steve teach and share in his wise, moving chapel talk entitled "Show Up": A Sociophobe's Guide to Surviving Wabash. Trust me: the talk has much to offer beyond the cloister of Wabash College.