NPR's Weekend Edition Sunday featured a poignant interview with Father Roy Snipes, who serves Mission, Texas' La Lomita Chapel. The chapel, which dates back to the 19th-century missions, is now under threat of seizure by the federal government under eminent domain, another potential casualty of the war of the wall. Fr. Snipes calmly and sadly describes the beauty and historicity of the place, which he says would become "a desecrated sacred place" if the diocesan-owned land on which the chapel rests is taken.
It would be easy to dwell on the irony of such action coming from within the political party that purports to care about religious freedom and tends not to look kindly on the seizure of property by the federal government. But to leave it there would distract from the origins of this latest overreach of power. It's not as though congressional Republicans have sought to be associated with a land grab. But now apparently the standoff is extending its reach beyond Congress to landowners who have the misfortune of being in the way of one man's face-saving, visually symbolic monument to his own ego. And these include the Church.
Perhaps more appropriate to the situation, theologically speaking, than the standard American political language of right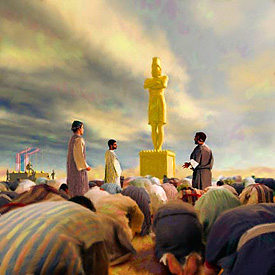 s and freedoms are its echoes of the Babylonian captivity recounted in the book of Daniel, in which a power-mad autocrat orders the faithful to bow to a physically constructed representation of his own self-importance, an order that Daniel and his friends openly disobey at their own peril. And how will we live in our own Babylon? This may be more obvious to those with ministries at or near the US-Mexico border, but the idea of the infamous wall charging a path through a place of worship should make it clear that it is an idolatry. Whatever the consequences, Christians – or for that matter any serious people of faith – must not bow to it.