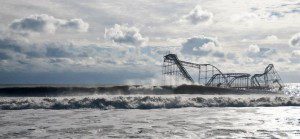 You'll be reading this post several days after I wrote it, when I again have an Internet connection. I live in an area of the Jersey Shore that was hard hit by the so-called Super Storm Sandy. We have spotty cell service and no power and none is expected for many more days.
I live a few miles from the ocean-front town of Seaside Heights, a place I spent every summer during my youth and young adult life. The town I knew is now only a memory, its boardwalk and many of its homes now rubble, its Funtown Pier roller coaster sits in the ocean.
I am fortunate enough to live a few miles inland, though it was a close call. The placid river that lines my neighborhood came to life the night the storm hit. It roared into several of my neighbors' homes and crept up my driveway, stopping just short of the house. For two days we lived on a small island, the two roads leading out of town chest-deep with water.
The scariest part of the storm was the wind. We stayed in the basement as it roared with 80-mph gusts for 24-hours straight, afraid it would take down one of the big trees around my home—especially an ancient 60-ft scrub pine that sits right in front of it, leaning ever so slightly toward the front door.
Yet, through it all, I was only mildly worried. I prayed long and hard before the storm came and, maybe it's my own optimistic nature, but I had faith we would be alright. We also took some extra precautionary steps that you might call spiritual or superstitious or worshipping false idols, depending on your perspective.
The day before the storm hit, I had a short talk with the big pine. I admit I was little self-conscious as I put my hand on its trunk and prayed for its survival. I also made it a promise. If it pulled through the onslaught of Sandy, I would not cut it down (even though our "tree guy" had suggested it several months earlier).
On that same day we also cleaned our lawn and deck of its outdoor furniture and the many ornaments that adorn it, that is, all except two. My wife wanted to keep a small ornamental angel under a bush near the house to watch over us.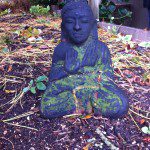 My choice for a good luck charm was the foot-high black Buddha that sits near my lower level door. I've written about this Buddha previously and how it mysteriously turned from a dull gray to black one day. He has had his share of mishaps over the years and I've had to glue his broken body back together a few times. As I mentioned in that post:
Once, during a vicious wind and rain storm, a massive branch from a tall oak snapped and landed on the stone bench where he sits. It toppled and cracked the bench top, propelling my Buddha five feet from his perch. He emerged mostly unscathed, except for a few cracks by his feet.
During Sandy, he sat right in the line of fire facing the strongest winds of the storm. And though she was able to toss a small boat into the middle of my street, my Buddha did not budge. He came through just fine, covered by a bit of debris, but looking as calm and serene as ever.
A little over a week later, we have a Nor'easter coming our way. I again will pray for my family and home, for my friends and neighbors and their homes. I'll have another talk with the tall pine. And you can bet the small white angel and black Buddha will not be going anywhere. They helped guide us through Sandy and I plan on leaning on them, and God, again.