I woke up a few weeks ago with Sedona's sacred waters on my mind. You may not know that in my younger years I used to live near Sedona. There is something about that place that always draws me back. Over and over I return to this sacred place to connect with the local Water Spirits. Not surprisingly, as I began working on this blog, I was interviewed by Angie Knight-Reiter on her podcast "Witch & Chill Wednesday". Having also lived in Arizona, we got caught up discussing the amazing beauty and magic woven into the strange red rocks and sacred waters.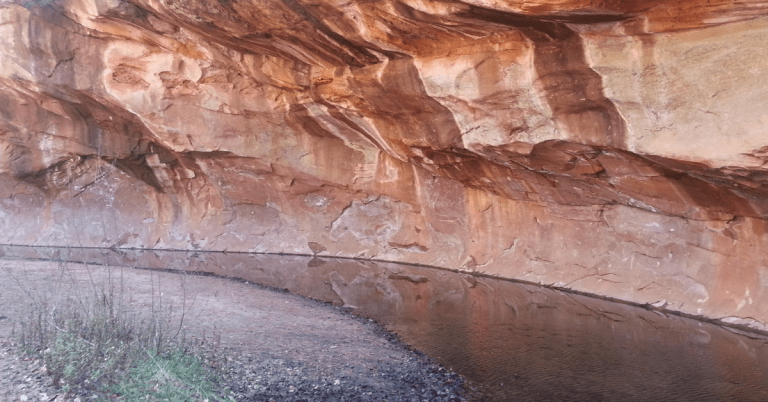 For those that might not know Sedona is located in Northern Arizona just south of Flagstaff. It is home to many magical, metaphysical, and earth-based practitioners, groups, shops, and more. Much like Glastonbury in the UK, Sedona is a sacred spot for so many paths. Everyone from vortex seekers and crystal shoppers to Witches and Mystics, Sedona is full of magic, art, and mysterious energy. The water in Sedona is magical as well.
Oak Creek has many hidden magical places. I remember walking through the magical forests and weaving my way by quiet waters and orange cliffs. Some of my favorite memories are spending time looking at the wild wormwood and spearmint that grows along the banks with my best friend.
Many summers since my youth I have slid down Slide Rock and explored the shops and natural wonders. In my early 20's I lived just north of Sedona in Flagstaff. Visiting Sedona was something we did often and even later in life, I made the trip to visit this magical place when I could.
While Sedona is full of natural wonders, the water whispers the most magical secrets. Giving the local landscape a full spectrum of energies. From frozen snowscapes and quiet bubbling brooks to rising rivers and floods. But this magical creek holds mysteries yet to be discovered by many. If you follow the creek past slide rock and out to the Verde River you may find your way to another creek that holds ancient magic and spirits within the landscape. Bear creek may not be as exciting as the waters found in Sedona proper. However, just outside of Sedona is an ancient sacred place where a Sacred Spring and Bear Creek connect.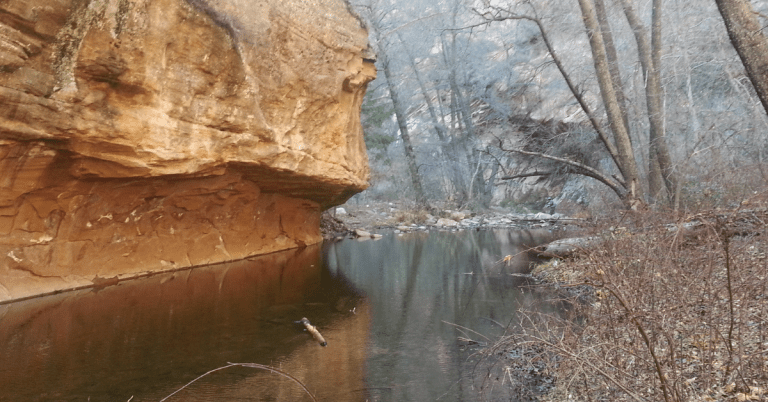 Montezuma's Well
Deep within the desert among sacred indigenous ruins, vortex, cliff drawings, stories of star people, and the plumed serpent lies a magical body of water. History, lore, and magic are woven into the landscape of the high desert. Among wild wolfberry and deadly datura is an ancient sinkhole, a magical spring that was once believed to be the place of creation by those that once dwell there. Now, this sunken limestone sinkhole is called Montezuma's Well. However, it is important to note that there is no evidence that Montezuma ever visited and it was a sacred place hundreds of years before his time.
It has its own ecosystem consisting of turtles, leaches, and water scorpions. While the water is considered sacred it is not habitable by fish and does contain arsenic. However, the natural limestone filters the green murky water through it and out the other side creating a crystal clear stream that parallels and eventually dumps into Bear Creek. Local legend says it is a gateway to the otherworld, paralleling Celtic, Mayan, and Aztec lore that describes similar bodies as such. I find it interesting that we find similar energies to that of Mt Rainer and Glastonbury where the energies of the Red and White waters flow. Montezuma's well has a similar energy. The waters of the limestone sinkhole filter out to flow alongside Bear Creek. When Bear Creek is flowing fast it turns up the red mud creating a similar Red and White flow of paralleling waters.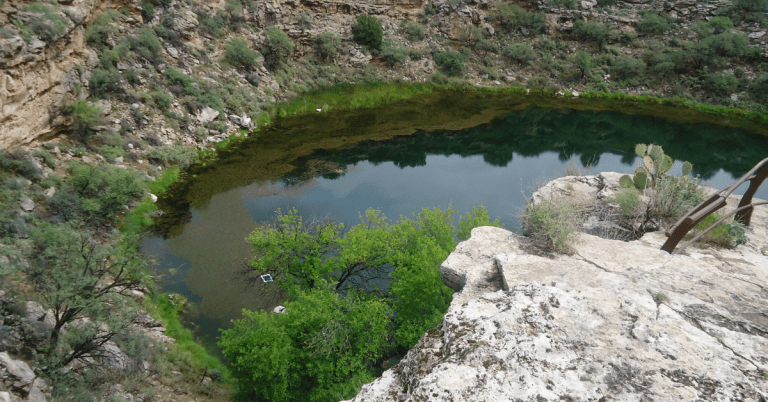 The Verde Valley and Montezuma's Well was the home to the Hohokam who lived in the area through the 7th century. It was then the home of the Sinagua people until around the 15th century. Sinagua means without water. It has also been documented that the Apache also lived in this area around the 1800s. The Hopi also claim a connection to this sacred water. Steeped in lore of serpents, fallen angels, portals, and the place of creation. The First Nations that dwelled in this area have a rich collection of lore connected to this strange but magical water. One legend tells us that the Plumed serpent, sometimes identified as a seraphim angel dwells within the depths of this mysterious sinkhole.
Described as bottomless, it seems very similar to Cenote Angelita found on the Yucatan peninsula. Like Cenote Angelita, Montezuma's well has a false bottom of silt at 55 feet with true bottom of 124 feet. Strangely enough, Cenote means sinkhole and Angelita is a little angel. Montezuma's well, a limestone sinkhole has similar lore of a fallen angel known as Green Plumbed Serpent, also referred to as Quetzalcoatl.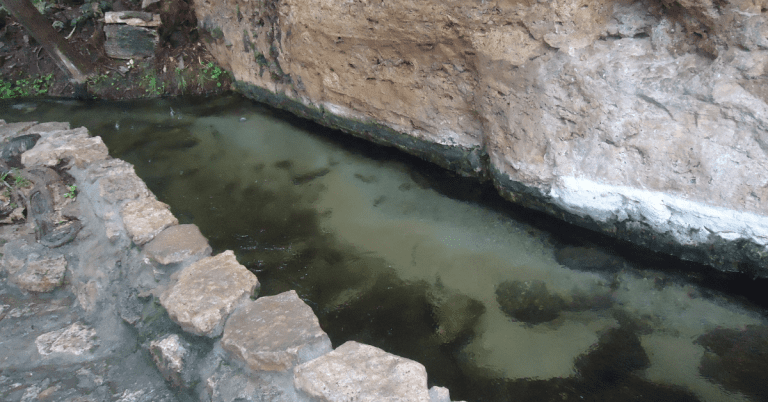 The Yavapai people believe that it is a doorway to the underworld. Elders of the Hopi Snake Clan believe that it is the endless home to sacred serpents. In other lore, Quetzalcoatl's mouth is said to be a vortex through which spirits can pass through from other worlds to this. Is this Sacred sinkhole more than just the home of Quetzalcoatl? Is it the mouth, a vortex, or gateway to the other worlds? Perhaps this is the magical vortex so many pilgrims journey to Sedona to experience?
I am so grateful that the water spirits have guided me back to these magical and mystical serpent waters over and over again. Quietly whispering the secrets of the sacred water.
Please do not pollute Oak Creek or the Verde River. Trash including store-bought Flowers and crystals do not belong here. With the dense tourist population in the summer, these sacred waters are regularly polluted by human influence. We must take our work seriously and protect the water rather than pollute it. Please consider cleaning the waters rather than depositing offerings into them for they will just be retrieved by another water protector and put in the trash where they belong.