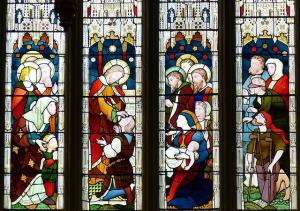 Caring for and otherwise helping other people are essential parts of Christian faith.
Christ spent his entire ministry helping people physically, mentally and spiritually and using parables, such as the story of the Good Samaritan, to teach us how to live.
He reached out with love and healed people who were blind, deaf, mute or paralyzed; cured a woman who suffered from a bleeding disorder and a man with a withered hand; and performed numerous exorcisms.
(I'm no biblical scholar, but I think the latter refers to debilitating mental disorders, although the Bible refers to possession by demons. Whatever the case, Christ miraculously restored these people's lives. What do you think?)
Christ Comes to Serve
Mark 10:45 quotes our Lord as saying that he "did not come expecting to be served by everyone, but to serve." And in John 13:15, he says, "For I have given you an example that you also should do just as I have done to you."
"Each of you should use whatever gift you have received to serve others, as faithful stewards of God's grace," Christ tells us in 1 Peter 4:10.
Christ Heals the Sick
"Healing was an important part of Jesus' vocation and Messianic identity," according to Kyle Roberts, Ph.D., an assistant professor at Bethel Seminary in St. Paul, MN, and Patheos blogger.
"Healing is not just about transforming individual situations, but it's also – and maybe even more so – about challenging and changing unjust, oppressive, perverted structures," according to Roberts. Christ challenged unjust laws. He chose to disobey Jewish law when he touched "unclean" people such as lepers and healed a lame man on the Sabbath.
Christ reached out to care for and help other people because they needed his help.
In Luke 16:31, he commands us to "Do unto others as you would have them do unto you." And in Matthew 25: 35-36, he says, "I was hungry and you gave me something to eat. I was thirsty and you gave me something to drink.
"I was a stranger and you invited me in. I needed clothes and you clothed me. I was sick and you looked after me. I was in prison and you visited me…. Whatever you did for the least of these brothers and sisters, you did for me."
Going Above & Beyond
One of the Bible's greatest parables is Christ's story of the Good Samaritan. Briefly, a Samaritan was traveling from one town to another when he saw a badly beaten Jewish man lying by the side of the road. A Jewish priest and a Levite had already seen the man, but hadn't stopped.
The Samaritan went out of his way to help. He stopped and bandaged the injured man's wounds and then took him to an inn where he continued caring for him. The next day, the Samaritan had to leave and left money with innkeeper for additional care. He also promised to return and cover any extra expenses.
The Samaritan saw another human in dire need and responded the way Christ expects us to respond.
It's important to note that a Samaritan would be the last person expected to help a Jew in 1st century Israel. Samaritans and Jews shared a mutual hatred of one another. Their centuries-old hatred was probably the reason that Christ cast a Samaritan as the one person who helped the injured Jew.
A Life-Changing Encounter
In another New Testament story, Jesus encountered a tax collector named Zaccheus. People despised this man because tax collectors frequently took bribes and stole the people's money.
At any rate, Zaccheus was curious about the man called Jesus and climbed a tree in order to see over the crowd that was surrounding him.
Christ saw Zaccheus and told him that he – Jesus – wanted to go to his house. The crowd was appalled that this preacher and teacher would go to the home of a much-hated tax collector and share a meal with him.
Yet, Jesus saw a human being who was despised by other people, and he offered him salvation. Zaccheus became a changed man. He promised to give half of his possessions to the poor and pay back the people he cheated four times the amount he owed them. Jesus responded by saying that salvation had come to his house.
Feeding 5,000 on 5 Loaves & 2 Fish
Another New Testament story tells of Jesus feeding 5,000 people from one small meal. Matthew 14:13-21 tells us that crowds followed Jesus as he traveled with his disciples through various towns.
Late one day, the disciples suggested that Christ send the people away so that they could get food. Jesus replied, "They do not need to go away. Give them something to eat. 'We have only five loaves of bread and two fish,' they answered."
The scripture says that there were five thousand men in the crowd. When you consider that women and children probably accompanied many of the men, you realize that there were thousands of people who needed a meal.
Christ took the loaves and fish, blessed them and handed the food to his disciples. The disciples passed around the food, and everyone ate as much as they wanted. The disciples then picked up 12 basketfuls of leftovers.
The Lord saw people in need and performed one of his greatest miracles to help them.
Musings
I know of no one who can perform miracles as Christ did during his earthly ministry. I also don't know of anyone who has devoted their life to caring for the needy as Mother Teresa did. But each one of us can demonstrate our love and care for others by finding ways to use our God-given talents to help them.
Have you thought about your God-given gifts lately? Do you use them to help others? Why not?