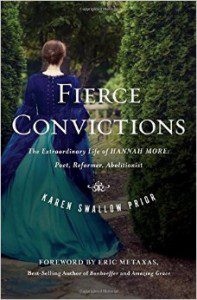 Reprinted from The Well. Thanks, folks!
Embarrassing as it is for a 19th-century historian to admit, I didn't know 19th-century writer Hannah More (1745-1833) — at least not well — until I met her in the pages of Marc Baer's Mere Believers, which I reviewed for The Well a few months ago. (In my defense, I thought of running around waving my hands in the air and shouting "But I'm an Americanist!" But at this stage of my life, since I edit a generalist magazine about church history and don't believe in academic specialization, I should have known better.)
And then Karen Swallow Prior's Fierce Convictions arrived in the mail: Hannah More's life story, carefully researched and elegantly written. More, it turned out, was someone who didn't believe in specialization either. She was a poet, playwright, novelist, educator, moral campaigner on a number of causes, friend of the rich and famous, and champion of the poor and downtrodden. The next-to-youngest of a family of five sisters, daughters of a modestly paid schoolteacher of a charity school near Bristol, she loved literature from an early age and turned to writing, Prior suggests, "from two sources of suffering: her own battle with numerous illnesses over the course of her life and the suffering of others that she sought to alleviate" (39). She was enabled to do so by two things; the growing acceptance in the early 19th century of writing as a profession for women, and a personal setback-turned-opportunity.
An early setback gives new direction
More was engaged in her early twenties to a country gentleman named William Turner about twenty years her senior, but he set a date for and then backed out of the wedding three times, the third time actually leaving her at the altar. In compensation, Turner ended up providing her an annuity of £200 which, in effect, financed her writing career. Twenty years later, they became friends again, and in later years she sent him a copy of each of her books as they were published. But she never married him, nor anyone else, despite enjoying the friendship of many men and a flirtation with Samuel Johnson. She lived for years in a household with her four sisters and was especially close to her youngest sister, Martha (Patty).
Though she wrote poetry throughout her life, More began her career mainly as a playwright; she started with dramas for the school she and her sisters had founded, but she became friends with the celebrated actor David Garrick and his wife Eva, moved into a London social circle where she hobnobbed with Garrick, Johnson, and a circle of literary women called the Bluestockings, and had a play, Percy (1777) produced at Covent Garden. Her next play, The Fatal Falsehood, was less successful, and her attention turned elsewhere. In 1785 she left London society to live in more peaceful seclusion with her sister Patty in a cottage called Cowslip Green in Somerset County in southwest England.
A moral reformer emerges
Meanwhile, in 1780, she had "read a book that changed her life" (105), Cardiphonia by John Newton. (She later met him.) The book was a meditation on personal faith by the author of "Amazing Grace," and reading it "marked one more significant stone on [More's] path toward and increasingly evangelical — and personal — faith. It was Newton — his writings, his sermons and his friendship — who convinced More to devoting her life to promoting spiritual education and reformation across British society" (108).
More became a moral reformer committed to a number of causes. Foremost was slavery, and in 1787 she became close friends with William Wilberforce, one of the leading politicians championing the end of slavery. It would be a long battle but slavery was eventually ended in Great Britain in 1833; Wilberforce dying a few weeks before, and More a few weeks after the Slavery Abolition Act was passed.
One of More's most famous poems, "Slavery" (1788) pleaded for abolition. But that was not the only social cause she championed: the "reformation of manners," literacy (she opened a group of Sunday schools in the nearby town of Cheddar where the poor were taught to read), and animal welfare all gained her support and the use of her pen.
Accomplishments and legacy
Among her most famous publications were the tract Village Politics (1792 written to counteract the influence of the French revolution), a series called Cheap Repository Tracts (1795-1797) intended to give the poor better reading material, and the novel Coelebs in Search of a Wife (1809). She befriended the Bishop of London and famed politician Horace Walpole, and belonged to the Clapham Sect, a group of evangelical Anglicans centered around Holy Trinity Church on Clapham Common who fought for abolition and other moral causes.
In her later years she and her surviving sisters lived in a beautiful estate called Barley Wood where she entertained visitors and fans from all over the world: it was "a veritable pilgrimage for the devout, some from as far away as America. Even after her death, strips from her dresses, cut up by her servants for distribution, were treasured by believers like holy relics" (241). She kept writing, too, publishing The Spirit of Prayer (1825) at the age of eighty. After her death, she was found to be worth over £30,000, which was distributed to over 200 charities, "including many she founded. The beneficiaries of her wealth included numerous schools, mission societies, and outreaches to orphans, slaves, and the poor" (251).
If this quick tour through More's life leaves you breathless, rest assured it left me breathless too — even at the pace of its unfolding over Fierce Convictions' 250-odd pages. The sheer breadth of More's achievements — writing in multiple genres, pursuing countless reforms — is astounding. So is the fact that, given her influence and importance in her own day, she has been all but forgotten in ours, dismissed by later thinkers who disliked her moralistic tone and writing style and now striking us as "an unknown abolitionist, an obscure poet, and an outdated reformer" (253).
Convergence of work and faith
But her life, especially in Prior's comprehensive and witty retelling, commands attention. It asks difficult questions about the relationship between marriage, motherhood, and a public calling — as difficult a balance to undertake in our own day as it was in More's; it seems clear that she would have worked neither so much nor so tirelessly as an author and public reformer if she had become Mrs. William Turner and the mistress of a large estate. More's often heavy-handed efforts to help and "uplift" the poor through her didactic writings and the establishment of the schools at Cheddar also sit uneasily with modern consciences. The Victorian era, as it continued to implement the kind of reforms More and her contemporaries advocated, without a doubt transformed human society, but secular historians have often argued that this came at the price of what one of More's later critics called "dingy morality" (252). More's life challenges us both to rescue the achievements of Victorian heroes from the prudish stereotypes later bestowed on them, and to seek ways of reform in our own day with a lighter, if no less dedicated, hand.
In a happy coincidence, I was reading Prior's book just as I trekked to and from a recent conference on the integration of faith and work. Whatever else can be said about Hannah More's life, one thing is clear: she early on learned what her vocations were, and she pursued them with single-minded force, especially after her more serious turn spurred by the writings of Newton and her commitment to the anti-slavery cause. We can all learn a lesson in how to find and follow our own vocations from her life. We can also learn the lesson of what it might cost.