Just in time for SSA Week CNN has posted an article about the recent pew poll confirming that the youngest generation is really starting to say "wtf?" to religion. The one that gave us this graph: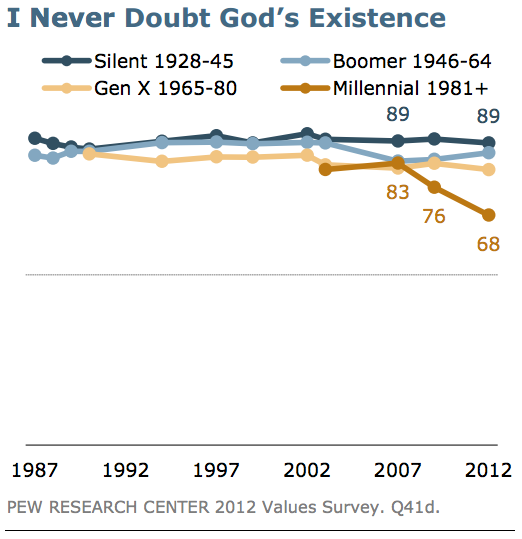 Guess who's square in the middle of this? If you guessed the Secular Student Alliance, you guessed right.
According to Jesse Galef, communications director for the Secular Student Alliance, the growth in "doubting" youths has led to a surge in secular student groups.

"For a lot of millennial atheists, they are expecting to find a group, they are coming to campus, and if they don't find one, they are starting one," Galef said. "This is completely different than what other generations grew up with."

The Secular Student Alliance has affiliates on 357 American campuses, Galef said, up from 81 such affiliates in 2007.
Something that didn't make it into that article is the fact that since its inception in January of 2011, the high school program has more than tripled in size.
We are winning with the younger generation. This is where a great deal of our support needs to be.
Donate to the SSA to support this work and the Millenial generation.